Allyson Gofton - Go Nuts With Nut Oils
Publish Date

Friday, 1 July 2016, 2:53PM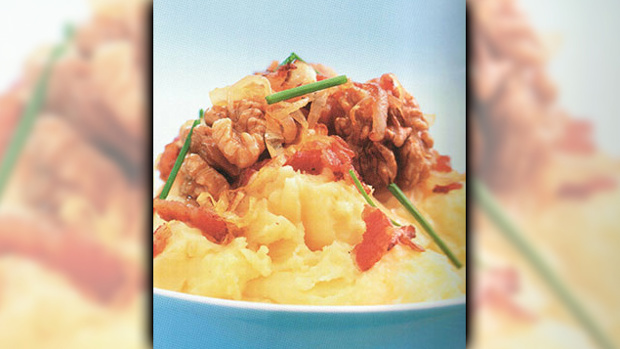 Author

By Allyson Gofton
Nut oils…
Oil from hazelnuts is a deep russet colour with an intense overpowering hazelnut aroma and is delicious. It works well with baking, where it will hold it's aroma, but avoid using for pan frying as it will burn easily. Hazelnut oil looses its flavour when heated highly in pan frying, so use to dress foods before serving. Oil from almonds is sweet and light in colour. It flavour is delicate; use to dress foods before serving. Walnut oil is rich in flavor and a gorgeous deep honey colour. Best not to expose to excessive heat as it will burn quickly and loose flavour.
All oils and nut oils in particular should be stored in a cool place and not exposed to heat as they will become rancid quickly. Rancid oil is disgusting in an oil and so they need to be biffed.
Nut oils are expensive and so in baking they can be mixed with canola oil to make them stretch.
Recipe:
Autumn Mashed Potatoes
Walnut oil takes favourite mashed potatoes to a new level of taste.


Prep Time: 10 minutes
Cooking Time: 15 minutes
Serves: 6

Ingredients:
1 kg starchy potatoes
About ¼ cup walnut oil, olive oil or 100 grams butter
Milk

Garnish:
4 rashers streaky bacon, finely sliced
1 onion, peeled and finely sliced
1 cup walnuts
Dash of walnut oil

Method:
Peel the potatoes and place into cold water. Cut potatoes if necessary to even out the sizes so they cook evenly. Bring to the boil and then simmer for 15 minutes or until the potatoes are tender when tested with a skewer or knife.
Drain and mash well. Season with salt and pepper. Using a fork whip in the walnut oil and sufficient milk to make smooth mashed potatoes.
Cook the bacon and onion in a dash of oil until well browned. If the bacon has a little fat on it, do not add any more oil to the pan. Stir in walnuts and cook until lightly toasted.
Serve the potatoes from a large serving bowl garnished with the bacon and onions and a dash of walnut oil on top.
Take your Radio, Podcasts and Music with you