Allyson Gofton - Greek Lamb Racks
Publish Date

Thursday, 27 October 2016, 10:11AM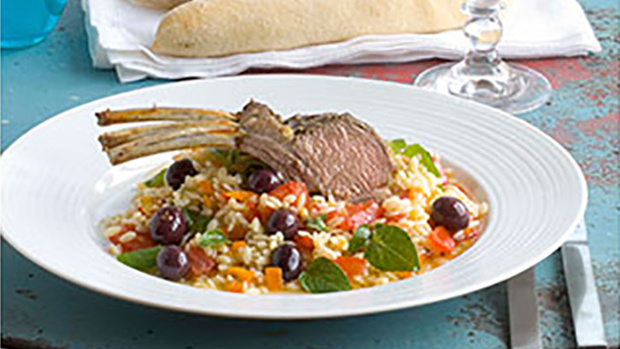 Author

By Allyson Gofton
Four steps to perfect BBQ Lamb Racks:
Have the well-trimmed lamb racks at room temperature.  If you cook them straight from the fridge, the will not accept seasoning well and will be over cooked on the outside before the centre has reached minimum temperature.
Season the racks well with salt, pepper and oil. Once seasoned allow a few minutes for seasonings to do their job.
Grill over a moderately high heat on the bbq, turning only two or three times. Do not continue to turn, nor prod with a fork as the racks will stew rather than bbq and the juices will all seep out from turning the meat into a sieve!
Rest for 3-4 minutes to all the fibres in the rack to reabsorb the juices and relax.
Recipe:
Greek Scented Rack Of Lamb With Orzo Salad
Serves: 4
Ingredients:
2 tblsp well packed oregano leaves
Grated rind 1 lemon
2 tblsp lemon juice
¼ cup olive oil
2 tsp minced garlic
½ tsp ground cinnamon
2 lamb racks (8 chops each), trimmed

Orzo Salad:
1 cup orzo pasta
2 tomatoes, diced
1 yellow pepper, deseeded and diced
½ cup baby black olives
Grated rind 1 lemon
¼ cup well-packed oregano leaves

Wine Dressing:
¼ cup honey
½ cup dry white wine
Reserved juices from cooked lamb

Method:
Combine the oregano leaves, lemon rind and juice, olive oil, garlic and cinnamon and rub over the lamb racks.

Orzo salad:
Cook the pasta according to the directions on the packet and drain well. Allow the orzo to cool slightly. Combine pasta, tomato, pepper, olives, juice and remaining ingredients in a large bowl, toss well and season with salt and pepper to taste.
Heat a barbecue or grill to medium-high and cook the lamb racks for 5-6 minutes each side for medium rare, or as desired. Allow to rest for 5 minutes.
Spoon orzo salad onto a large platter and place whole racks on top, or separate lamb into 3-4 chop portions and serve on individual plates. Spoon over dressing and serve.

Dressing:
Combine ingredients in a bowl or shaker and mix well.

Cooks Tips:
The orzo salad can be made 2-3 hours ahead and served cold with the lamb.
Take your Radio, Podcasts and Music with you