Allyson Gofton - Knock! Knock! Gnocchi
Publish Date

Friday, 10 June 2016, 12:13PM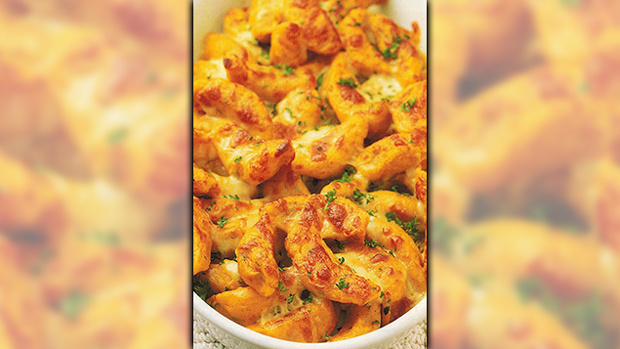 Author

By Allyson Gofton
Gnocchi's origins, much like many of our favourite starch-based foods are humble. Left over, uneven pieces of pasta dough were boiled up and served with butter and Parmesan. The potato's arrival in Europe , gnocchi began to be made with potato and flour rather than just flour. Later variations included pumpkin.
The variety of potato or pumpkin used to make gnocchi, will determine the amount of flour you need to add; use any gnocchi recipe as a guide only.
The gnocchi dough should be soft but not so sticky that it sticks to you hand. The less flour used the lighter the gnocchi will be.


Recipe:
Pumpkin Gnocchi With Mozzarella


Serves: 4

Ingredients:
1 kilogram crown pumpkin, cut into wedges with seeds removed
1 egg, beaten
¾-1 cup flour
1 teaspoon ground nutmeg or mace
2 tablespoons chopped fresh oregano
¼ cup grated fresh Parmesan
1 tablespoon chopped parsley to garnish
1 cup grated mozzarella cheese

Method:
Roast the pumpkin in a baking dish at 200ºC for 45 minutes until tender. Cool, scoop the flesh from the pumpkin, place in a bowl and mash until smooth.
Add the egg, half the flour, nutmeg, oregano and Parmesan cheese. Season well with salt and pepper and mix thoroughly.
Knead until smooth, gradually adding the remaining flour if required. Roll into sausage-like cylinders about 2.5cm wide and then divide into 2-3 pieces. Flatten the pieces, pinching the ends to form crescents.
Poach 4-5 gnocchi at a time in simmering salted water for 2-3 minutes or until they float to the surface. Remove and place in a greased ovenproof serving dish. Cover and keep warm. Poach the remaining gnocchi.
Sprinkle over the mozzarella cheese and fan grill at 180ºC until golden. Serve garnished with the parsley. If you do not have a fan grill, then grill under a moderate temperature until golden and hot. Serve with salad.

Cook's Tips:
For pumpkin gnocchi, you require a dry pumpkin and dry mash. If the mashed pumpkin is moist, cook over a moderate heat, stirring until thick and dry. - For a richer version, pour ½ cup cream, crème fraiche or mascarpone over the pumpkin gnocchi before grilling - delicious!
Take your Radio, Podcasts and Music with you