Allyson Gofton - Lamb and blue cheese filo rolls with crushed buttered peas
Publish Date

Thursday, 18 May 2017, 9:28PM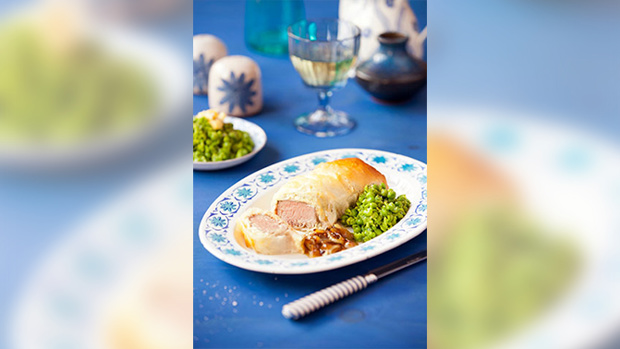 Author

By Allyson Gofton
Cooks Tips
Lamb strip loins are also called back straps, boneless eye and long loin.
The boneless, lean fillet is taken from the eye of the loin.
This lean cut is expensive but delicious and needs to be cooked to medium-rare. If over -cooked it will be tough.
Once the lamb has been wrapped in the filo, cover the tray loosely with plastic wrap and refrigerate for up to 24 hours until ready to bake. Remove from the refrigerator 30 minutes before cooking to allow the rolls to come to room temperature. Cooking time is given for lamb cooked from room temperature.

Allow the cooked lamb to rest for 3-5 minutes before serving. The meat will not go cold, rather the meat will, while resting, re-absorb the juices into the meat fibres, ensuring tender lamb.
Ingredients
4 lamb striploins
200 grams blue cheese, crumbled
125 grams pottle spreadable cream cheese
1 tablespoon freshly chopped chives
12 sheets filo pastry
100 grams butter, melted
Crushed buttered peas
500-600 grams frozen peas
50-75 grams butter
Method
Preheat the oven to 200ºC. Grease a baking tray or line with baking paper.
Season the lamb well with salt and pepper and olive oil. Brown quickly on all sides in a hot frying pan and set aside. Mix the blue cheese, cream cheese and chives together.
Butter one sheet of filo with butter and place a second sheet on top and butter. Place on piece of lamb at the edge (shorter side) and spread one-quarter of the cheese mixture one top. Roll up in the pastry to enclose. Brush with butter and place on the prepared tray. Repeat with the remaining ingredients.
Bake in the preheated oven for 15-20 minutes (depending on how well cooked you enjoy your lamb). Rest for 5 minutes before serving with the crushed buttered peas and onion marmlade.
Crushed buttered peas
Cook the peas in a dash of water for about 3 minutes over a high heat or in the microwave until very hot. Do not overcook.
Drain well, add the butter and mash coarsley. Season with salt and pepper before serving.
Take your Radio, Podcasts and Music with you