Allyson Gofton - Lazy Bangers
Publish Date

Thursday, 12 May 2016, 3:44PM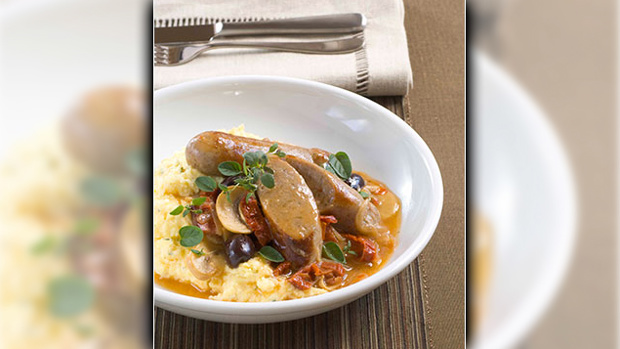 Author

By Allyson Gofton
Sausages are a family favourite, but where we used to have a simple choice –   pork or beef – there is now a huge selection of types and flavours of sausages. Once a way of using up "bits", more and more butchers are producing artisan sausages in a wide range of flavours and ingredients as an "added value" item. Farmers' markets are also often a good source of delicious sausages, made with free-range meats in a variety of fillings and flavours. Some are delicious, with the potential for the cook to create a gourmet meal around the humble banger, much more these days than just a regular dinner meal. Migrants from countries where the sausage has never been particularly humble, have added still more varieties and flavours.
Not that there's anything wrong with the humble banger…grilled or sautéed and served with mashed spuds, good gravy, Savoy cabbage, carrots etc., they are sure to remain a family favourite for generations to come.  
Here are some tips for producing perfect sausages:
Spray the pan or the sausages lightly with oil, pan fry over a moderate heat (no higher) , turning regularly, so that they brown evenly; too high a heat and they will split.
Do not prick, as all the juices will run out and the sausage is more likely to split.
Once browned and pretty much cooked, allow them to rest in a low oven, 120-150°C for 5 minutes. This ensures thick sausages are well cooked and tender to eat.
Thin sausages need less cooking time but, again, do not prick, or cook over a too high a heat.
Recipe:
Lamb Sausages In Red Wine

Prep Time: 10 minutes
Cooking Time: 30-35 minutes
Serves: 4

Ingredients:
6 thick lamb sausages
4 rashers bacon, trimmed and diced
1 red onion, sliced
1 tsp minced garlic
250 grams button mushrooms
1 tblsp flour
1 cup red wine
1 cup stock (chicken or beef)
6-8 sundried tomatoes, sliced
10-12 black olives
1-2 tblsp chopped marjoram or oregano

Method:
Pan-fry the sausages in a dash of oil until well-browned. Set aside.
Fry the bacon and onion over a moderate heat for about 5 minutes until the onion has softened and begun to colour.
Lower the heat. Add the garlic and mushrooms and cook, tossing the mushrooms for a further 2 minutes. Sprinkle in the flour and shake or stir until all the white specks have gone.
Stir in the red wine, stock, tomatoes and olives and bring to the boil. Add the sausages, cover and simmer on top of the stove or in a 180ºC oven for about 20 minutes until they are cooked. Add the herbs and season with salt and pepper.
Serve hot accompanied by polenta.
Take your Radio, Podcasts and Music with you