Allyson Gofton - Lemon And Pinenut Slice
Publish Date

Thursday, 15 September 2016, 4:02PM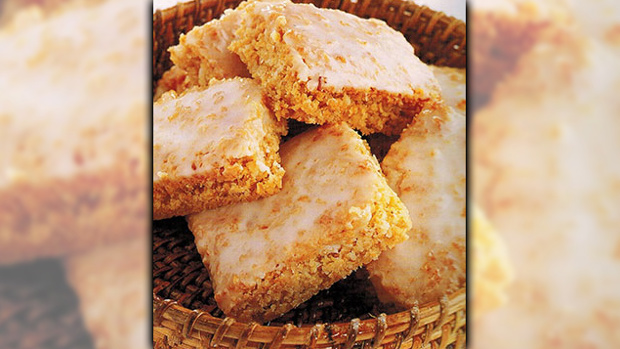 Author

By Allyson Gofton
Pine Nuts are the seeds from mature cones of a number of pine trees and their rich, buttery-sweet flavour makes them hard to resist. They keep well and are especially used in Mediterranean and Middle Eastern recipes, in stuffings, pestos and stir fries. Being so tiny and containing ahigh level of fat, they need to be watched closely when toasting or roasting as they brown quickly and burn easily. Pinenuts should be kept in the freezer to avoid the nuts becoming rancid.
New Zealand grown pinenuts, sold under the Pinoli brand, are especially buttery. They are available from good food stores: www.pinoli.co.nz/our-orchards.
Recipe:
Lemon And Pinenut Slice

Makes: 30
Ingredients:
1¼ cups pinenuts
1 cup sugar
2 cups desiccated coconut
2 cups rolled oats
275 grams butter
3 lemons (grated rind)
2 tblsp lemon juice

Method:
Finely chop the pinenuts and place in a bowl with the sugar, coconut and rolled oats and mix together.
Melt the butter in a saucepan and continue cooking until the butter has become nut brown.
Mix the butter, lemon rind and lemon juice into the dry ingredients.
Press into a greased and lined 20cm x 30cm slice tin.
Bake at 160°C for 25-30 minutes until golden brown. Mark into squares while warm. Cool and then spread with lemon glaze.

Lemon Glaze:
Mix 2 cups sifted icing sugar with grated rind of 2 lemons and sufficient lemon juice to make a thin icing.
Take your Radio, Podcasts and Music with you