Allyson Gofton - Moroccan-Inspired Roast Chicken
Publish Date

Friday, 17 June 2016, 11:34AM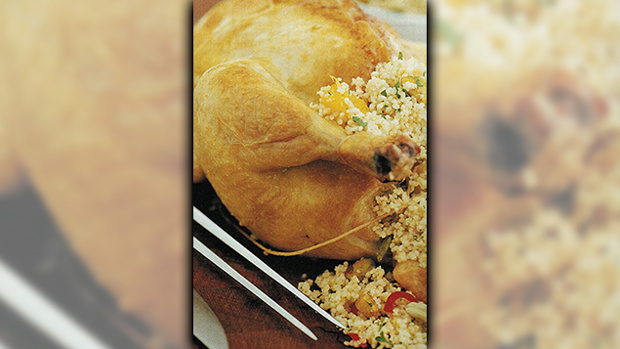 Author

By Allyson Gofton
Couscous is a staple grain product, made from wheat, and the staple starch of many North Africa. Traditionally it is made by salted water being sprinkled over a bowl of freshly ground whole grains of flour like coarse semolina by one hand, while the fingers on the other hand rake through the flour causing the coarse flour particles to coagulate into tiny balls before drying. It was and still is a way of preserving whole wheat flour as the bran and germ (the inside of a grain of wheat) will deteriorate if left to the air. It goes rancid and moulds. By coating the coarse grains with starch on the outside the inside of the grain is protected from "going off" really. Traditionally the couscous grains were steamed on top of the stew, so that they were fragrant with the flavours simmering beneath. Couscous comes in different sizes and the larger styles of couscous are usually cooked in the stew. These can come to be the size of peas. Pre-cooked couscous reconstitutes in minutes.
Tips for cooking couscous:
You have to get this right otherwise like most dried food; if it is not re-hydrated properly it will continue to do so in your tummy - ouch!
As a rule of thumb, pour 2 x the amount of boiling water or stock over the couscous and allow it to stand for 10 minutes so that it has fully absorbed all the liquid. Now you can eat it like this or if you have time:


Add a knob of butter with salt and cover with plastic wrap. Microwave if you can on 50% power for 5 minutes, or alternatively, pop it on a large ovenproof dish – it should not be a very thick layer, rather about 1cm, and place in a low oven about 120°C for 10-20 minutes, (depending on how much you have). This step replaces the traditional steaming process and it really does improve the texture.
Season and serve.
Recipe:
Roast Chicken With Fresh Date And Couscous Stuffing
This is a favourite turkey stuffing at Christmas time and it works just as well with chicken.


Serves: 4-6

Ingredients:
1 orange
½ cup couscous
½ cup chicken stock or water
¼ cup shelled unsalted pistachio nuts
4 fresh dates, stoned and chopped
1 small onion, peeled and grated (optional)
2 tsp grated fresh ginger
2 tbsp chopped parsley
½ tsp each salt, ground cardamom and chilli powder
1.4 kg chicken, washed
2 tbsp butter softened or melted
Light chicken gravy
2 tablespoons fat from the roasting pan
2 tablespoons flour
1½ cups chicken stock
1 tablespoon wholeseed mustard, optional

Method:
Grate the rind from the orange and then cut away the pith. Segment or dice the flesh of the orange.
Put the couscous in a bowl and pour over the boiling chicken stock or water and leave for 10 minutes. Fluff with a fork.
To the couscous add the orange flesh and rind, pistachio nuts, dates, onion, ginger, parsley, salt, cardamom and chilli powder.
Make sure the chicken cavity is well dried using paper towel.
Fill the chicken with the stuffing and then secure the opening with skewers and string.
Brush with the melted butter and season well with salt and pepper. Weigh the chicken.
Place the chicken on a rack and roast at 180ºC for 30 minutes per 500 grams. Stand 5 minutes while making the light chicken gravy and before carving and serving with the couscous stuffing and your favourite steamed winter vegetables.
Light chicken gravy
Remove any excess fat from the roasting pan leaving 2 tablespoons. Stir in the flour and cook for 1 minute or until frothy.
Gradually stir in the stock and continue to cook until thickened. Stir in the mustard if using. Season well with salt and pepper.
Take your Radio, Podcasts and Music with you