Allyson Gofton - Pistachio Nut and Chicken Curry
Publish Date

Saturday, 28 October 2017, 9:15AM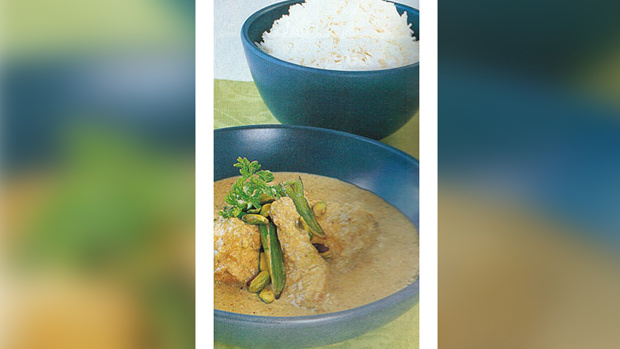 Author

By Allyson Gofton
Mild, sweet and deceptively rich, this dish has overtones of the Moghul Empire. Serve with plenty of boiled basmati rice to soak up the thin sauce.
Ingredients
¾ cup unsalted pistachio nuts
4 onions, peeled and sliced
10 cloves garlic, crushed and peeled (or 2 tblsp freshly minced garlic)
5cm piece ginger, peeled (or 4-5 tsp freshly minced)
¼ cup oil
1 kg whole chicken
8 green chillies, halved and deseeded
2 tblsp ground coriander
2 tsp salt
1 tsp white pepper
1 cup chicken stock
1 tsp garam masala
½ cup cream
¼ cup thick yoghurt
Garnish
fresh coriander or parsley
about ½ cup extra pistachio nuts
Method
Grind the pistachio nuts to a fine paste in a coffee grinder or food processor. Set aside.
Boil the onions in 2 cups water over a low heat for 15 minutes until tender. Drain and place into a blender with the ginger and garlic, and process until smooth.
Heat 1-2 tblsp oil in a frying pan and cook the onion paste for about 10 minutes over a low heat, stirring regularly until the onion is soft.
While the onion is cooking, use kitchen scissors scissors to cut the chicken (including bone) into 4-5cm size pieces. Heat the remaining oil in a frying pan and brown the chicken pieces evenly. Set aside.
Add the green chillies, coriander salt and pepper to the onion paste and cook a further minute.
Then add the chicken pieces, ground pistachio nuts and chicken stock. Cover and simmer gently for 20-25 minutes until tender.
Stir in the garam masala, cream and yoghurt just before serving. Serve garnished with coriander and extra pistachio nuts.
Take your Radio, Podcasts and Music with you