Allyson Gofton - Poor Man's Meat
Publish Date

Friday, 22 January 2016, 10:10AM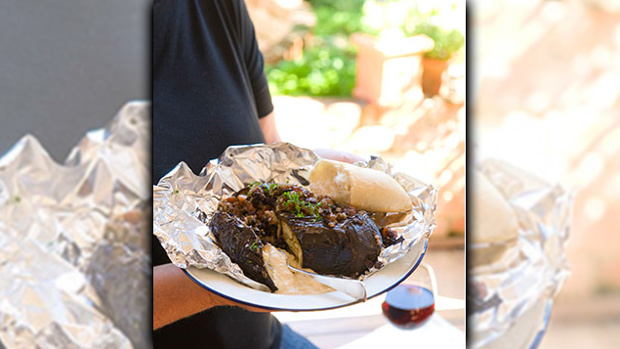 Author

By Allyson Gofton
Here in New Zealand, we do not see the range of varieties that we may overseas and the one which is most familiar and which is grown here is the shiny, purple, almost black and a bit like a zeppelin or truncheon-like in shape, although the long, slender purple and white variegated ones from the Pacific Islands are also readily available.   Shapes also vary from the more common one to long, thin and cylindrical. 
Selecting: 
Shape and size are not important on the whole, but what does matter is that the skin is unblemished, glossy and tight, and that the aubergine feels firm and heavy for its size – lightweight ones are likely to be spongy and have a lot of seeds.  The stalk is also an indication of freshness; it should be green and stiff…if the prickles are wilting and soft, the fruit is not fresh and you'll need to salt them to rid them of bitterness.  
Preparation: 
There are two schools of thought about preparing aubergines.  One stipulates that they be sliced, salted and put in a colander for half-an-hour prior to cooking to draw out bitter juices; the other says that it is not necessary –fresh aubergine should not be bitter.  This applies particularly to the most recently developed varieties. The one advantage to salting is that it does prevent the aubergines from soaking up vast quantities of oil during cooking – they'll take all the oil you care to give them when being pan fried – so perhaps it's worth salting them.  To reduce the amount of oil used in cooking them, brush or spray them lightly with oil and grill – and that saves the salting.  Well-known Italian chef and author Antonio Carluccio also advises to blanch aubergine quickly before cooking to prevent them soaking up too much oil. Remove the calyx before using. Do not peel unless the skin is tough – and if they are fresh, it won't be.  I find it better to peel them if I intend to freeze the dish I'm making as the skins tend to come out of the freeze a bit on the chewy side.
How to salt: 
Cut the aubergine as the recipe directs. Toss with salt, about 1 tablespoon to a large aubergine and place in a colander. Allow to stand for about 30 minutes to disgorge any bitter juices, rinse well and pat dry before cooking. 
Storing: 
Refrigerated in the vegetable crisper, aubergines will keep well for several days, but are best used as fresh as possible.


Recipe:
Turkish Eggplants With Garlic-Spiked Hummus Sauce
Slowly baked eggplants are at their best served at room temperature with a hummus-style sauce to accompany. Wrap each eggplant in foil to make individual servings. They can be partly opened and easily served on a picnic plate.

Prep Time: 30 minutes
Cooking Time: 1½ hours
Serves: 6

Ingredients:
4 large juicy tomatoes
1 onion, peeled and finely chopped
½ cup currants
½ cup chopped fresh parsley
¼ cup chopped fresh dill or 1½ tablespoons dried dill
3 teaspoons minced garlic
1 teaspoon salt
½ cup oil, olive is best
6 small eggplants
2 tablespoons honey or brown sugar

Garlic-spiked hummus sauce:
1 cup prepared hummus
¼ cup sour cream
1 teaspoon minced garlic

Method:
Preheat the oven to 180ºC. Line a roasting dish or deep baking tray with foil.
Chop the tomatoes finely and mix with the onion, currants, parsley, dill, garlic, salt and half the oil. Season well with pepper.
Heat a dash of oil in a frying-pan and quickly brown the eggplants on all sides. Remove from the pan and, when cool enough to handle, make a deep slit down the centre of the eggplants, but not all the way through.
Fill the eggplants with equal amounts of stuffing. Place the stuffed eggplants close together on the prepared tray. Pour over the remaining oil and drizzle over the honey or brown sugar.
Bake for 1-1½ hours, basting the eggplants occasionally until they are tender and well cooked.
Cool and refrigerate but serve at room temperature with half a lemon to accompany, squeezing the juice over just before eating. Accompany with the garlic-spiked hummus sauce.

Garlic-spiked hummus sauce:

Stir all the ingredients together.

 

Cook's tips:
Make the eggplants a day in advance. Wrap and refrigerate overnight but serve at room temperature.


Take your Radio, Podcasts and Music with you