Allyson Gofton - Porcini Pesto On Venison
Publish Date

Thursday, 23 June 2016, 3:52PM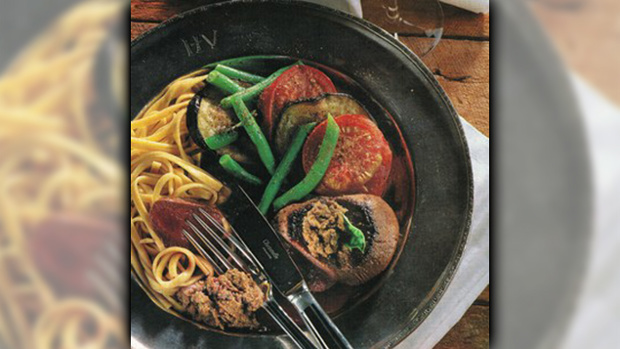 Author

By Allyson Gofton
Porcini Mushrooms
Porcini, the Italian name for Boletus Edulis Funghi is a member of the Cep family. For some it is called the King of Mushrooms. Here we have the ability to buy them dried. Their flesh remains white when dried and they are available sliced and only require 30 minutes' soaking before using. They have a broad cap and foot and they almost have the shape of a Champagne cork. Their flesh is meaty and their flavour is unique. Adding a few slices of porcini to a casserole or soup will brightly enhance the mushroom flavour. Porcini powder is perfect to so inkling into risottos, gravies or sauces and soups. Like all dried foods they should be kept in an airtight container and away from light and heat to ensure their glorious flavour is not harmed.
Recipe:
Porcini Pesto On Venison Steaks
Dried porcini mushrooms are wonderful earthy treasures, also called cepes. They will bring an intense meaty and woody mushroom flavour to your cooking. They are expensive so I have used them in a pesto-style dish that will extend their use. Here, venison steaks are marinated in the porcini soaking liquid and served medium-rare with porcini pesto.


Serves: 4

Ingredients:
20 grams dried porcini mushrooms
½ cup warm water
1 medium tomato
1 small clove garlic, peeled
2 tablespoons roasted pinenuts
¼ cup grated Parmesan cheese
3-4 tablespoons good virgin olive oil
2 large leaves fresh basil
4 venison steaks
A dash of pinot noir, optional

Method:
Put the porcini mushrooms and water into a bowl and leave to soak for about 30 minutes. Strain, reserving the liquid.
While the mushrooms are soaking, cut the tomato in half. Heat a drop or two of olive oil in a frying pan and cook the tomato on both sides until it is well browned and cooked.
In a small food processor or blender, put the porcini mushrooms, tomato, garlic clove, pinenuts, Parmesan, olive oil and basil. Process until the mixture is well blended. Season with pepper and a smidge of salt if wished. Add more olive oil to reach the desired consistency if you want it thinner. Keep the pesto in an airtight container in the refrigerator. Allow it to come to room temperature before using.
Arrange the venison steaks in a single layer in a dish and pour over the mushroom soaking liquid. Add a dash of pinot noir if wished and season well with pepper. Allow the steaks to marinate for 2 hours in the refrigerator, then cook over a hot heat for about 3 minutes on each side until medium rare to rare - well done venison is tough and dry. Keep warm and allow to stand for a minute before serving. Meanwhile, add the marinating liquid to the pan and reduce by half. Pour over the steaks, add a dollop of the porcini pesto and a fresh basil leaf on top and drizzle with a smidge of balsamic vinegar, if you have it, before serving.

Cooks Tips:
If there is any pesto left over, use it to top crostini, toss it though pasta or spread it on bread in place of butter with a slice of rare roast beef. Mis it into a quiche or frittata filling or add a tablespoon or two to a gravy or sauce.
Take your Radio, Podcasts and Music with you