Allyson Gofton - Pork sausage and lentil braise
Publish Date

Thursday, 31 May 2018, 4:50PM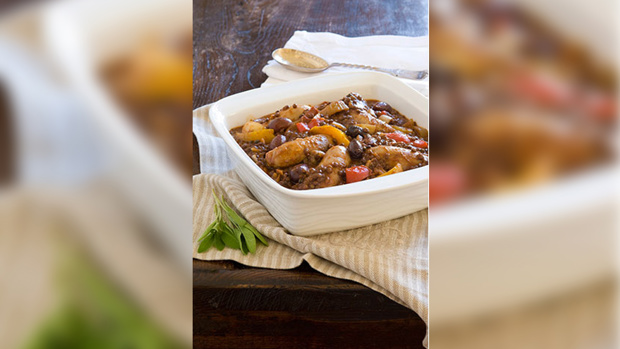 Author

By Allyson Gofton
Thick pork sausages make a great autumn dish when braised with the complementary flavours of olives, green peppercorns, wine, capsicum and winter herbs like sage or thyme. These herbs help soften the wind-causing natures of the onion and lentils, and cut through the richness of the pork sausages.
Ingredients
10-12 thick pork sausages
1-2 onions, peeld and thickly sliced
6 cloves garlic, crushed, peeled and sliced
2 red or yellow capsicums, thickly sliced
1 cup puy or brown lentils
½-1 cup black olives
1½ cups tomato puree
½ cup white wine
¼ cup olive oil
2 tablespoons chopped fresh sage or thyme
2 teaspoons green peppercorns in brine, rinsed, optional
Method
Turn the slow cooker on to low to pre-warm while gathering and preparing the ingredients.
Place the pork sausages into a cold or just-warm frying-pan with a dash of oil and gradually heat the pan to brown the sausages. Doing it this way will avoid the sausages splitting. Set aside while lightly cooking the onion and garlic unti lthey have softened and become golden brown, without burning the garlic.
Into the pre-warmed slow cooker put the sausages, onion, garlic, capsicums, lentils and black olives.
Mix together the tomato puree, wine, olive oil, sage and peppercorns if using, and pour over the sausages. Stir to mix the ingredients as evenly as possible and cover with the lid.
Cook on low for 5-6 hours or on high for 3-4 hours, or until the lentils are soft and the sausages are cooked. Season if wished with salt and pepper and add extra fresh herbs if wished.
Serve in large bowls with plenty of crusty bread to mop up the cooking juices.
Cooks Tips
Variations: - Use thick beef or lamb sausages in place of pork. - Use a flavoured tomato puree. - Use a can of chopped tomatoes in place of the puree. - Vary the wine - try sherry, vermouth or even a deep-flavoured red wine.
Take your Radio, Podcasts and Music with you