Allyson Gofton - Potato Bread Pizza
Publish Date

Friday, 11 November 2016, 11:48AM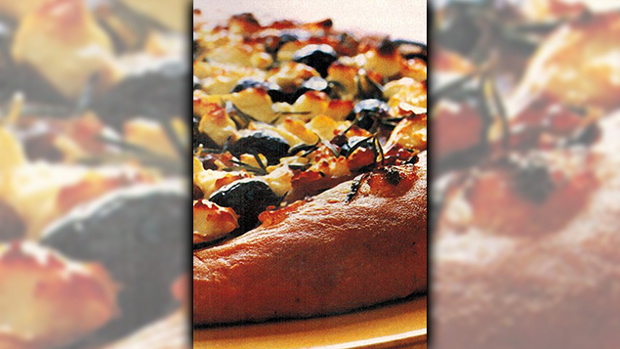 Author

By Allyson Gofton
Left over mashed spuds are usually relegated to pan fry ups such as bubble and squeak, or fish cakes but you can be far more creative with this much-loved family favourite. Fruit studded and pink iced Sally Lunn buns need mashed potato as do fish cakes, which can become café-chic by using smoked fish with lemon rind, capers and served with a wasabi Dressing. You can also use left over mashed spuds to make a substantial pizza dough. The potato creates a deep-pan like pizza dough with pleny of flavour and a moist texture.
Beyond making the dough into a pizza base, it can be rolled thinly, and baked like a focaccia bread with olive-oiled filled dimples all over the top of the dough and lashings of olive oil and salt.
For best flavour prove the dough in a cool kitchen; the longer it take to double in bulk the more flavour it will have.
Recipe:
Flat Potato Bread With Feta
Potatoes included in the crust of this flat bread give it a tender crumb with a crispy crust.
Ingredients:
About 500 grams floury potatoes
1 tblsp dried yeast
1 tsp sugar
1/2 cup warm water
3 tblsp oil (olive is nice here)
4 sundried tomato halves, chopped
2 cups flour
1 tsp salt
2 red onions, sliced
1/2 cup black olives
2 tblsp rosemary leaves
200 grams feta, crumbled

Method:
Peel potatoes and cook in boiling, salted water until tender. Drain and mash. Set aside.
Dissolve the yeast and sugar in warm water and leave for 10 minutes or until frothy.
In a large bowl mix together the yeast, mashed potato, 1 tblsp of oil and the sundried tomato. Gradually mix in the flour and salt.
Cover with greased cling film and leave in a warm place for 30 minutes or until doubled in bulk.
Gently deflate the dough. Press out to a 28cm round. Transfer to a greased baking tray.
Cook the onions in the remaining oil until tender but not brown. Cool.
Scatter the cooked onions on to the dough. Sprinkle over the olives, rosemary and feta.
Bake the bread in the lower half of the oven at 220°C for 35-40 minutes until cooked and golden. Serve immediately.


Take your Radio, Podcasts and Music with you