Allyson Gofton - Proscuitto Wrapped Pork
Publish Date

Friday, 11 December 2015, 3:09PM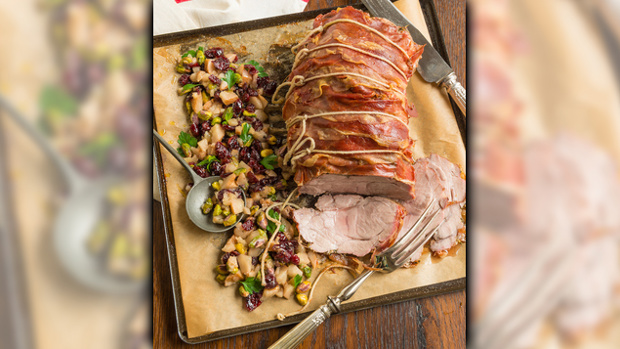 Author

By Allyson Gofton
A whole pork Scotch fillet is an ideal cut of meat to roast for Christmas day. The cut comes from the shoulder and is evenly marbled with fat, helping keep the pork basted during cooking, resulting in roasted pork carves perfectly and melts in the mouth.
Here are a few tips to help achieve a perfect roast:
All meat will cook better if cooked from room temperature.
It takes a large piece of meat like this about 1 ½ hours to come to room temperature - keep covered.
Pork is cooked at 71°C. If you have a meat thermometer it is wise to use it.
All meat regardless or whether it is a roast or a steak is best if left to rest after cooking and before serving. As a rule of thumb allow 5 minutes per 500 grams. The meat will not go cold while it is resting, but do keep it covered.
Use a sharp knife to carve. Thin slices will be more tender to eat.


Recipe:
Prosciutto-Wrapped Roasted Pork with Christmas Cranberry Mince Salsa
A Pork Scotch - it is a cut taken from the shoulder – is evenly marbled with fat, helping to keep the pork basted during cooking and resulting in roasted meat that melts in the mouth. This easy to prepare idea, with its salsa in the traditional colours of Christmas - red, green and white – is prepared from pears, cranberries and pistachio nuts and makes an easy idea to have on Christmas Day, or really, anytime of the year.


Prep Time: 15 minutes
Cooking Time: 1 1/4 - 1 1/2 hours
Serves: 8-10

Ingredients:
1 whole pork scotch (about 1.6kg)
2 tablespoons chopped fresh lemon thyme
1 teaspoon cracked black pepper
1 teaspoon flaky salt
1 tablespoon orange scented olive oil, or use olive oil and the grated rind of half an orange
100 grams sliced prosciutto, or use finely sliced bacon
4-6 pears, peeled
Extra orange scented olive oil or use olive oil and the grated rind of half an orange

Christmas Cranberry Mince Salsa:
1 cup dried cranberries
1/2 - 3/4 cup pistachios nuts (unsalted)
1 cm piece fresh ginger, grated or 1 teaspoon grated ginger
Few parsley leaves for garnish

Method:
Preheat the oven to 180°C. Line a tray with baking paper.
Massage the thyme, pepper, salt and the first measure of orange olive oil into the pork well. Overlap the prosciutto slices along the length of the pork scotch. Secure with string. At this time, the pork can be securely wrapped and refrigerated for 1-2 days before cooking, though do remove the pork from the fridge 1-2 hours before cooking.
Place the pork on the prepared tray. Peel the pears and brush each with the extra orange olive oil. Stand the pears beside the pork.
Roast in the preheated oven for 1 ¼ - 1 ½ hours. Pierce the meat with a bamboo skewer or a meat fork and if the juices are clear the pork is cooked. If still bloody, continue to cook. Alternatively cook until a meat thermometer reads 71°C. Remove from the oven, cover the pork and set aside to rest and keep warm.
Dice the pears, discarding the core and stem. Mix the pears with the cranberries, pistachio nuts, ginger and the juices from the roasting dish. Add a few parsley leaves for colour and texture if wished.
Serve the pork thinly sliced and accompanied with the Christmas Cranberry Mince Salsa.


Take your Radio, Podcasts and Music with you