Allyson Gofton - Pulled Mexican-spiced lamb flaps
Publish Date

Thursday, 5 April 2018, 1:15PM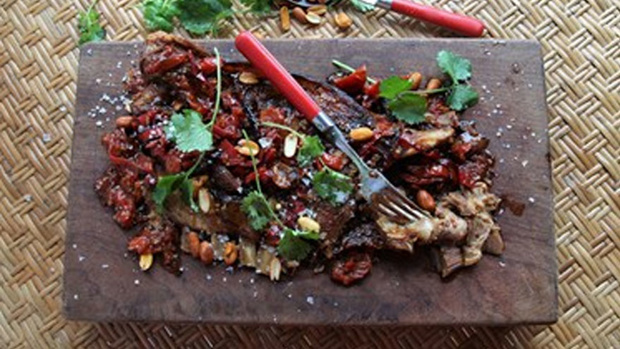 Author

By Allyson Gofton
Mexican seasoning mix, a blend of cumin, coriander, paprika, chilli and more, is an easy way to create authentic tasting Mexican foods. Most supermarket brands will have one and there are a number of specialty spice brands that also sell such a mix. If you can't find lamb flaps, try the recipe with another cut such as a shoulder of lamb.
Ingredients
2 Lamb flaps
1 Tbsp Mexican seasoning mix, mild or hot
½ tsp Salt
2 Tbsp Oil
1 Onion, peeled and finely chopped
1 Pepper, any colour, finely sliced
2 large Garlic cloves, peeled and sliced
2 cups Lamb stock, or water
To finish
500 g Tomatoes, chopped
½ cup Roasted peanuts
1 sprinkle Coriander leaves, to garnish
Directions
Heat the oven to 160C.
Using a sharp knife, make skin-deep cuts in the meaty side of the lamb flaps about 1cm apart. Rub the spice powder and salt firmly into the meaty side of the flaps and set aside.
Heat the oil in a large oven-proof frying pan and cook the onion, pepper and garlic until the onion has softened and browned just a little. Set aside.
Add the lamb flaps to the pan, browning them well on the seasoned side only. Turn over. Scatter the onion mixture on top and pour in 1 cup of the stock or water. Cover. Cook in the preheated oven for one hour.
Remove the cover, scatter over the tomatoes and peanuts and pour in the remaining stock. Return to the oven, uncovered, and continue to cook for 1-1 ½ hours or until the meat can be easily pulled from the bone.
Serve hot, rolled up in wraps with additional salad ingredients, as a filling in tacos, or serve just as is with salad and potatoes.
Take your Radio, Podcasts and Music with you