Allyson Gofton - Pulled Turkish Lamb
Publish Date

Thursday, 11 February 2016, 2:22PM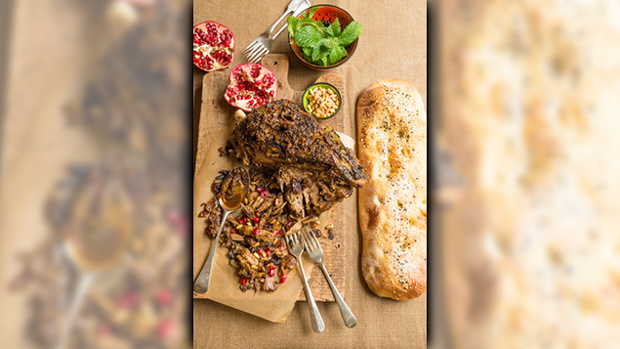 Author

By Allyson Gofton
Back in September 2014 the mighty Independent newspaper in Britain ran astory on 'pulled 'meat' coinciding with KFC's launch of a Pulled Chicken burger.
KFC's launch probably sparked the world wide trend in pulled meats, something up until then known and loved in southern states of the US and in and around the Caribbean more than anywhere else. Pulled meat's origins are from pigs cooked slowly, turning on a spit above glowing coals .
Once the skin was removed people literally pulled the meat off the bones. To aficionados pulled meat must be cooked over flames and smoked naturally - no artificial flavours.   Pulled meats have moved from spit roasting only to slow cooking in the oven, not unlike your grandmother may have done, and which became so untrendy in the last decades of last century when quick cooking became de rigueur.
Regardless of the origin of pulled meat, it is now the latest craze and given   this cooking style is sympathetic to cheap cuts of meat that only require spicing, it is a great economical way to cook.


Recipe:
Pulled Turkish Lamb with Pomegranate
The current fashion for pulled meats certainly removes much stress from cooking. Take a cut of meat that contains a level of fat such as lamb shoulder - this is for tenderness and juiciness, season well or blanket with spices and bake slowly at a low temperature for a long time until the meat falls easily from the bone. Use forks to shred the meat and serve simply accompanied with breads and salads. Great for summer.

Prep Time: 10 minutes + Bharat 10 minutes
Cooking Time: 4-5 hours
Makes: 8

Ingredients:
1/2 teaspoon saffron threads
2 tablespoons Baharat spice blend, use pre-mixed blend of prepare recipe below
Grated rind and juice one orange
1/4 cup olive oil
1 shoulder of lamb, preferably on the bone
1 onion, peeled and finely diced
1 cup raisins or sultanas
3 cups lamb or chicken stock, or alternatively use water
1/2 cup pinenuts (toasting is optional)
1 pomegranate, seeded

Baharat Spice Blend:
1/4 cup black peppercorns
2 tablespoons coriander seeds
2 tablespoons cassia bark
2 tablespoons whole cloves
1/3 – 1/2 cup cumin seeds
1 teaspoon cardamom seeds
2 whole nutmegs
1/4 cup ground paprika

Method:
Preheat to oven to 140°C.
Toast the saffron threads in a dry frying pan over a moderate heat until they become a deep burnished red colour. Watch carefully so the threads do not burn. Cool. Crush the saffron to a powder between two spoons.
Mix together the saffron, Baharat spice blend, orange rind and juice and oil. Score the top of the lamb with the tip of a sharp knife. Massage the spice blend all over the lamb. (At this time the lamb can be wrapped and refrigerated for 1-2 days before cooking).
Place the lamb into a deep ovenproof dish – one that can take direct heat, scatter around the onion and pour in one cup of the stock. Cover with a lid or foil.
Bake in the preheated oven for 2 hours. Scatter in the sultanas and pour in a further cup of stock. Cover again and cook a further hour. Remove the foil and continue to cook for a further hour or until the meat can be pulled easily from the bone.
Stand the lamb on a chopping board or platter for about 15 minutes before shredding the meat off the bone. While the lamb is standing, place the cooking dish over direct heat and warm through the juices that remain inside the dish with the remaining cup of stock. It should be quite a thickish mix. Add more water if required.
Using two forks, pull the meat from the bone and mix with the sultana mixture; it should be moist, but not so moist that the lamb sits in lots of liquid. Season with salt. Serve in a bowl, garnished with the pinenuts and pomegranate seeds. Serve atop toasted pide bread accompanied with fresh mint leaves, or alternatively, place portions of the pulled lamb in flat breads with fresh mint leaves, roll up and serve.

Baharat:
Loosely translated to 'flower and seeds' baharat is a fragrant spice mix used in and around Iraq and the Gulf States and your kitchen will hum with exotic fragrance when you cook with it. Use a favourite brand or make my favourite recipe (from spice guru Ian Hemphill). Keep in an airtight container and used with fish, chicken, lamb and pulse-based dishes.
Grind together the black peppercorns, coriander seeds, cassia bark, whole cloves, cumin seeds, cardamom seeds. Grate the nutmeg and mix with the paprika to the ground spices.
Take your Radio, Podcasts and Music with you