Allyson Gofton - Quinoa Tabbloueh
Publish Date

Friday, 17 March 2017, 1:13PM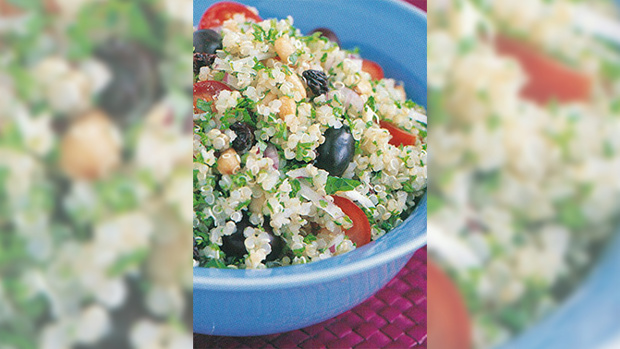 Author

By Allyson Gofton
Quinoa is one of the new culinary stars, being gluten free, easy to cook and filling, it makes a great alternative to cracked wheat and couscous in this tabbouleh.  Here's five great reasons to add quinoa to your diet.
This plant is a complete protein and there's not many in the plant world.
It's high in fibre
Has a low glycemic index, which is good for blood sugar control; ideal for people with diabetes.
Hi in anti-oxidants
Good source of many minerals, especially iron and magnesium
Quinoa is cooked just like rice  - boiled, strained and ready to eat; it's a great grain!
Recipe
Ingredients
1 cup quinoa
boiling salted water
1 red onion, peeled and finely diced
1 cup chopped fresh parsley
½ cup chopped fresh mint
200 grams cherry tomatoes, halved (or use 1/2 cup chopped semi-dried tomatoes)
½ cup currants
½ cup toasted pinenuts
1 tblsp minced fresh garlic
about ½ cup vinaigrette
Method
Cook the quinoa in the boiling salted for about 7 minutes. Remove from the heat and stand 5 minutes before draining in a colander. Squeeze out as much liquid as possible.
In a bowl mix together the quinoa, red onion, parsley, mint, tomatoes, currants, pinenuts, garlic and vinaigrette. Season with salt and pepper.
Take your Radio, Podcasts and Music with you