Allyson Gofton - Raw Prawn
Publish Date

Friday, 27 November 2015, 11:53AM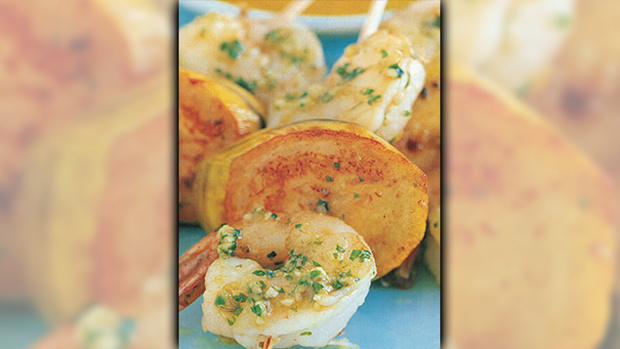 Author

By Allyson Gofton
Prawns
In New Zealand, we don't make too much of a differentiation between prawns varieties. Prawns are prawns, and shrimps are just small prawns. At least that is how they are pretty much sold to us.
All the retail prawns in New Zealand are imported from Australia and Asian countries – mainly Thailand, Vietnam, China and Indonesia.
When purchasing – look for prawns with
Shiny outers, and where they have not been shelled ensure that they have all their feelers and legs.
Firm shiny shells - even frozen prawns should look fresh.
A similar colour right through, with no darkening around the heads.
Eyes – if they are whole and unshelled, they should have both eyes, which should be bright and not shrunken.
No smell of ammonia       or the tired fish smell.
If you're just buying prawn meat, make sure it looks moist and not dried out.
Tip
Variation in prawn size doesn't mean lower quality; it's just likely to be a slightly different species.
Storage
Do not refreeze prawns that have already been frozen and thawed; domestic freezers aren't up to the job needed. Keep in the coldest part of the fridge as soon as possible after purchase.
As with any fish and meat, if you've still got more shopping to do, keep them in a chilly bin/cool bag in the car until you get them home.
Preferably consume on the day they are bought though they should keep refrigerated for 1-2 days.
Preparation
Defrost prawns in the fridge, not in the microwave or at room temperature.
If in packaging, remove it and put them in a bowl or dish, covered and leave overnight. If you need a faster defrost, don't use the microwave; put the bowl –tightly covered – into a basin of cold water for an hour or so.
If not cooking whole, twist off the head, hold the tail and carefully remove the shell from around the body; the tail can be left on or taken off.
If required devein by making a cut along the top of the body of the prawn, using a sharp knife to then remove the dark vein-like digestive tract.
Nutrition
Prawns are high in calcium, protein and iodine, low in saturated fat and calories and are a good source of Omega 3. They also deliver a range of vitamins, including B12 and E, and minerals.
Cooking
If you plan to cook your prawns, they are best bought raw and cooked. Re-cooking cooked prawns only makes them tough.
Slightly under cook prawns as they'll keep cooking with residual heat.
If you're serving them with barbecued or grilled steak, don't put the prawns on until the steak is 90% ready – and then only give them a couple of minutes maximum on each side.
Prawns only need a few minutes to cook, anymore and they become tough.
Prawns can be boiled, deep fried, crumbed and deep fried, pan-fried or grilled.
Cooked prawns should be springy, sweet and juicy; overdone they will be dry, tough and with little flavour.
If re-heating cooked prawns, do so over a moderate heat until just warm.
Tip
You'll get more flavour from prawns if you cook them shell-on.


Recipe:
Sweet Barbecue Prawns And Banana Kebabs
Plantains are great used here, but if they're not available use firm bananas.

Ingredients:
1½ - 2 cups loosely packed basil leaves
2 tsp minced fresh garlic
1 tsp grated fresh ginger
¼ cup pinenuts
½-1 tsp minced chilli
1-3 tsp sesame oil
¼ cup good peanut oil
1 tsp brown sugar
1 tblsp chopped fresh coriander
A pinch of salt
500-600 shelled large green prawns
3 firm bananas
Mango Dip:
400 gram can mangoes, drained
Grated rind and juice 1 lime
1 tsp minced fresh ginger

Method:
Process the basil, garlic, ginger, pinenuts, chilli, sesame oil, peanut oil, sugar, coriander and salt in a food processor and process until the mixture forms a smooth paste. Add a little more peanut oil if necessary.
Toss the prawns in the mixture and leave it to marinate in a covered container in the fridge for about 2 hours.
Slice the bananas thickly and thread onto bamboo skewers alternately with the prawns. Barbecue quickly on a well-oiled hot grill plate until cooked. Do not overcook prawns or they become tough Serve with the mango dip to accompany.

Mango Dip:
Place all the ingredients into a blender or food processor and process until smooth.


Take your Radio, Podcasts and Music with you