Allyson Gofton - Salt and Pepper Roasted Chicken
Publish Date

Thursday, 10 August 2017, 2:36PM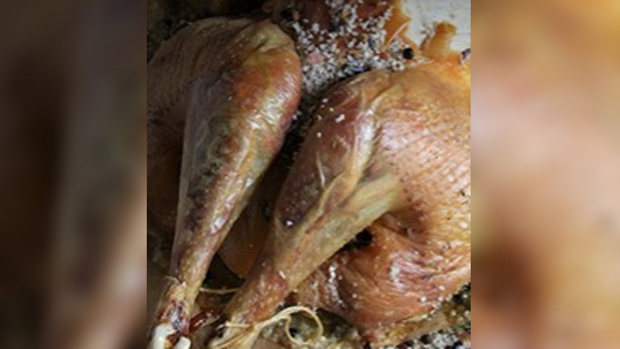 Author

By Allyson Gofton
Ingredients
1 whole Chicken, large
¼ cup Rock salt, coarse; use up to 1/3 cup
1 Tbsp Peppercorns, whole; use up to 2 Tbsp, crushed (use white, black, green or a mix)
2 Tbsp Oil, or melted butter
Directions
Heat the oven to 190-200C. Place the oven rack in the centre. Line a shallow sided baking tray with baking paper.
Use a sharp cook's knife or pair of kitchen shears to cut down either side of the chicken's back; discard the backbone or use to make a little stock (simmer with a cup of water and a few flavourings like onion, peppercorns etc for 35-45 minutes). Press the chicken down firmly on the skin side to flatten the well, to ensure even cooking.
Scatter three quarters of the salt and pepper on the paper-lined tray. Place the chicken on top and pour over the olive oil or butter. Scatter the remaining salt and pepper on top of the chicken.
Roast for about 1 hour or until the chicken is golden and cooked. To tell whether it is cooked, twist the leg: if it moves easily the chicken is done; if not, cook a little longer.
The juices, though a little salty, are delicious spooned over the carved chicken. (If you have prepared stock from the backbone, strain, and pour over the chicken when serving).
Take your Radio, Podcasts and Music with you