Allyson Gofton - Sensational Souffle
Publish Date

Friday, 14 October 2016, 8:45AM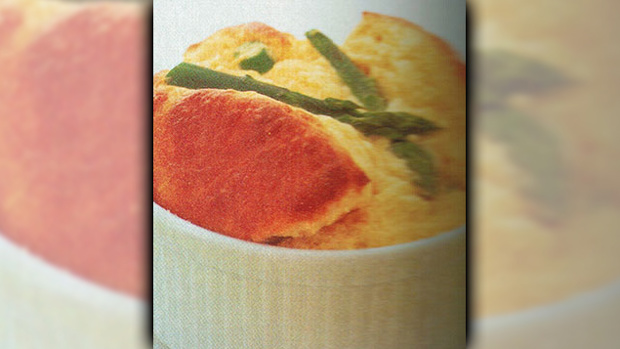 Author

By Allyson Gofton
For a breakfast with panache, move on from eggs on toast and whip them into a soufflé. Light, fluffy, cheap and protein packed, they are truly not that hard to make; there's only a few rules to follow.  The white sauce – the base of the soufflé- should be lukewarm and not too thick (it can be made ahead and re-warmed), the straight-sided soufflé dish needs to be well-greased and dusted with breadcrumbs or semolina. And lastly the soufflé, which will cook quickly, should be slightly moist in the centre when removed from the oven, as this serves as a creamy cheesy sauce.
Recipe:
Asparagus And Parmesan Souffles
I always have eggs on hand. Poached they make a quick meal or they can be transformed into smoething far more delicious - a souffle. But don't panic, a souffle doesn't take enormous skill and the sauce base can be made a day in advance and warmed before completing the cooking. Rather than asparagus, try pan-fried mushrooms, a mix of herbs, crispy bacon and blue cheese.
Ingredients:
Butter to grease the dish with
2 tblsp semolina, grated parmesan cheese or dry breadcrumbs
12 asparagus spears, blanched
50 grams butter
3 tblsp flour
1¼ cups milk
4 eggs
1 tblsp prepared mustard (Hot English is good here)
1 cup grated or diced cheese

Method:
Lightly grease with butter or oil a 6 x 1 cup capacity oven proof souffle dishes or use sturdy cups and dust with semolina or grated parmesan cheese or breadcrumbs. Alternatively use a 1.5 litre souffle dish.
Finely slice the bottom third of the asparagus spears and keep the spear tops aside.
Melt the butter in a saucepan and add the flour. Cook over a moderate heat for about 2 minutes until frothy. Stir in the milk and cook, stirring until the sauce has thickened. Allow it to bubble away for about 1 minute. Remove from the heat and allow to cool slightly. Beat in the egg yolks, mustard, cheese and sliced asparagus.
In a clean bowl beat the egg whites until they form stiff peaks. Take a large spoonful of the beaten egg whites and stir into the cheese mixture ever so gently. Once this has been stirred in, gently fold the sauce mixture into the remaining egg whites. Pour the mixture over the back of a spoon, to avoid bursting too many of those precious air bubbles, into the prepared dishes or dish. Top each dish with 2 asparagus spears. Or for a large souffle use 6 and serve the remaining spears others with the souffle.
Place in a 200ºC oven and turn down to 180ºC. Cook small souffles for 15-18 minutes and a large souffle for 35 minutes or until the souffle is cooked. To know, give it a slight shake. If it wobbles violently it needs more time. If has a slight wobble in the centre it is ready. A souffle should have a little of the mixture just undercooked in the centre to act as a sauce.
Serve immediately, accompanied with salad.

Variations:
Add a few sliced sundried red peppers or tomatoes, chopped herbs like chives, sliced cooked mushrooms or sliced reconstituted porcini mushrooms.
Take your Radio, Podcasts and Music with you