Allyson Gofton - Slender Stems: Asparagus
Publish Date

Thursday, 1 September 2016, 4:00PM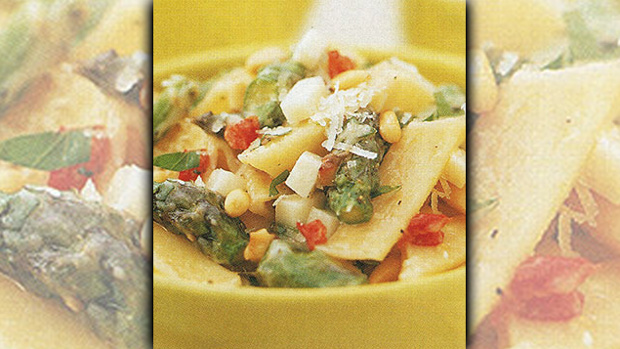 Author

By Allyson Gofton
If there is a vegetable favorued by the gods, surely it must be asparagus. Its shortseason and memorable taste make asparagus a somewhat lavish and extravagant vegetable, to be enjoyed while at its peak, simple cooked and presented so you can clearly feel as if you have been indulgent. Once beyond it's best by date, asparagus can become quite tough and stringy, so when the first spears arrive on the shelves – right about now- enjoy them before age gets the better of them.
Purchasing
Look for or fresh bright stems, that are firm and not wilted and floppy, tightly furled tips , not broken and open and stems squeak! Fresh asparagus squeaks when rubbed together, old asparagus will not.
Varieties
Green stemmed of asparagus with its strong flavour should be a bright grass-green colour. White asparagus is really ivory in colour. It is grown under as mound of earth and only picked when the trips of the spear break through the earth, which is why the tips can be a darker in colour than the stems. It is becoming more widely available, but for a very limited season. Purple asparagus, which arrives on the shelves a few weeks after green asparagus contains less fibre, but is sweeter than green asparagus. It does however loose some of it glorious regal colouring on cooking
Storage
As asparagus has a high water content it is apt to becoming dehydrated and going floppy quickly unless correctly stored. Buy asparagus spears in bundles. Trim the ends on reaching home and stand in about a 1cm depth of water in a deep container. Alternatively wrap in dampened absorbent paper.
Cooking
Snap off the tough ends on older spears - young ones really do not need this done and cook lightly so that asparagus remain crisp/tender. Peeling the lower 2/3rds of the stem is optional, though recommended on older stems.
Recipe:
Crispy Pan Fried Asparagus And Goats Cheese
With spring on the way, try this easy pasta dish with goat's cheese for a tangy flavour.

Ingredients:
Pasta for 4
250 grams asparagus, trimmed and peeled if wished
½ red pepper, finely diced
4 cloves garlic, peeled and diced
150 grams chevre tihi, diced
½ cup each cream and pasta cooking water or stock (chicken or vegetable)
½ cup grated Parmesan cheese
2 tblsp chopped chervil or parsley or chives
Pinenuts to garnish, optional

Method:
Prepare all ingredients and put the pasta on to cook.
Cut the asparagus into 2cm pieces and pan fry with the red pepper and garlic in a dash of olive oil until crisp-tender. Add the diced chevre tihi cheese and toss quickly for an extra minute.
Stir in the cream, stock or water, Parmesan cheese and herbs. Season well with salt and pepper.
Drain the pasta and toss through the asparagus mix.
Serve in bowls, garnished with pinenuts, and extra Parmesan cheese if wished.
Take your Radio, Podcasts and Music with you