Allyson Gofton - Spaghetti Spin Off
Publish Date

Wednesday, 18 May 2016, 4:13PM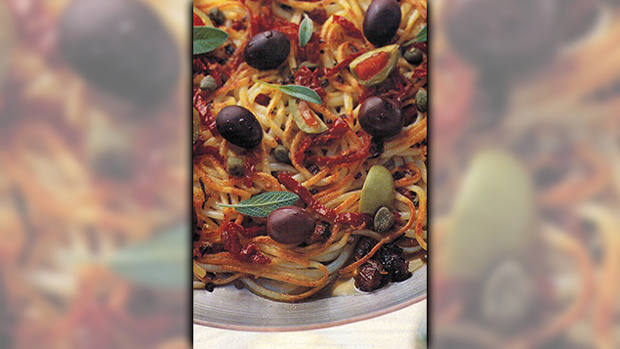 Author

By Allyson Gofton
Cooking pasta, cook up twice as much and use the leftovers to create a quick meal.
Toss cooked pasta in a little oil or butter before refrigerating. This prevents it sticking together. The fat will melt on reheating and the pasta will separate easily.
Always refrigerate left overs as soon as they stop steaming. This prevents any food bugs.
Pasta will keep refrigerated for 4-6 days. Tossed in oil or butter it can also be frozen for later use.
Recipe:
Fried Spaghetti And Chorizo
Hot and spicy; this is a great idea to use up leftover spaghetti.

Serves: 3-4

Ingredients:
200 grams dried pasta (eg. trenette)
Boiling salted water
2 chunky chorizo sausages
1 onion, peeled and diced
1 tblsp minced fresh garlic
1 chilli, finely chopped
2 tblsp olive oil
6-8 leaves sage, finely chopped
½ cup grated parmesan cheese
Salt and pepper to season
Olive oil for pan-frying

Suggested garnishes:
Chopped fresh or sliced sundried tomatoes
Olives, any style
Capers
Sage leaves
Extra grated parmesan cheese (optional)

Method:
Cook the pasta in boiling, salted water for 10-12 minutes or until al-dente. Drain and set aside.
Finely dice the chorizo sausage and cook in a hot frying pan with the onion, garlic and chilli in the 2 tblsp olive oil until the sausage and onion are well cooked but not burnt.
In a large bowl toss together the spaghetti, chorizo mix, sage leaves, parmesan cheese and a good seasoning of salt and pepper.
Coat the base of a frying pan with oil. Add 1/4 of the pasta mix and cook for around 3-4 minutes until the base is brown and beginning to crispen. Turn, or more flamboyantly, flip the spaghetti pancake over, and cook a further 1-2 minutes. Repeat three times, using remaining pasta mix.
Serve hot topped with a mix of the suggested garnishes.
Take your Radio, Podcasts and Music with you