Allyson Gofton - Sweet Thai Curry In Butternut Pumpkin
Publish Date

Friday, 4 March 2016, 2:40PM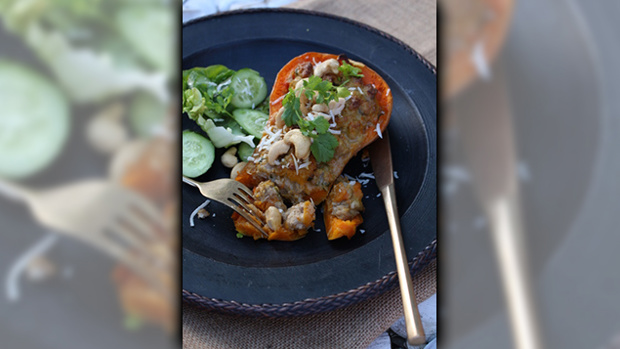 Author

By Allyson Gofton
Small-sized butternut pumpkins, cooked in the microwave, are ideal to serve this easy-to-make Thai green curry in. Add extra flavour with garnishes and accompaniments of your choice.


Recipe:
Sweet Thai Curry In Butternut Pumpkin

Prep Time: 5 minutes
Cooking Time: 30 minutes
Makes: 3-4

Ingredients:
3 small-sized butternut pumpkins
1 onion, peeled and chopped
500 grams minced pork
2 tablespoons Thai green curry paste
400 ml can coconut cream

Method:
Preheat the oven to 180 degrees Celsius.
Prick the pumpkins all over with the tip of a sharp knife. This is done to prevent the pumpkins exploding in the microwave. Cook them on high power (100%) for about 10 minutes, turning over once during the cooking. You need the pumpkins to be nearly cooked through. Use a dry cloth to remove them from the microwave - they will be very hot, and set them aside on a chopping board while preparing the curry.
Cook the onion in a dash of oil for 5 minutes or until the onion begins to soften. Add the mince and stir over a moderate heat for 2-3 minutes until the meat has lost its pink hue. Add the curry paste and cook a further minute. Stir in the coconut cream and simmer until the mixture thickens; about 10 minutes. Stir regularly.
Cut the pumpkins in half lengthwise and scoop out and discard the seeds. Scoop out the cooked flesh, leaving a 0.5cm border of pumpkin . Chop the flesh roughly and add to the curry and stir to coat. Place the pumpkin halves into a lasagne-style dish; they should fit snuggly. Fill each with an even amount of the curry. ( At this point the prepared pumpkins can be refrigerated for 2-3 days).
Bake in the preheated oven for 15-20 minutes or until the pumpkin is completely cooked, and the filling piping hot. Serve garnished with coconut, coriander and cashew nuts, or choose toppings of your liking.
Cooks Tips:
If you have any fresh basil leaves to hand, add a handful of chopped leaves to the curry with the coconut cream.
Take your Radio, Podcasts and Music with you