Allyson Gofton - Tuscan Chicken
Publish Date

Tuesday, 16 August 2016, 1:44PM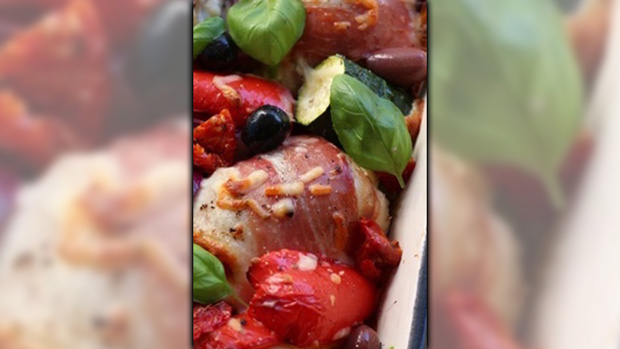 Author

By Allyson Gofton
Back when Food in a Minute was just an idea we prepared a pilot programme with the very first recipe being Tuscan Chicken . This version is rather more up-market, and using deli-ready ingredients is perfect for weekend entertaining. I like to use leg and thigh portions as they are more forgiving if they , by accident, get over cooked and they have far more flavour than breast, which if overcooked can be very dry.
Recipe:
Tuscan Chicken Bake
Inspired by the flavours of Italy and the ease of shopping at the deli counter, this chicken dish is great for mid-week entertaining.

Prep Time: 15 minutes
Cooking Time: 40-45 minutes
Serves: 6

Ingredients:
8 chicken thigh portions, skin on and bone in
1/2 cup red pepper pesto or similar
8 slices prosciutto
4 courgettes
1 large red pepper, core removed
1 large red onion, peeled and thickly sliced, optional
3/4 cup dry white wine
1 cup grated cheese - pecorino is nice here
Handful olives, any style
Handful fresh basil leaves
Few chopped semi-dried or dried tomatoes

Method:
Preheat the oven to 170 degrees Celsius fan bake (190 degrees Celsius without the fan).
Lift the skin a little from each chicken portion and place a generous spoonful of pesto between the skin and meat. Bring the skin back over the pesto and massage with the back of a spoon so that the pesto spreads out evenly. Wrap each portion in a slice of prosciutto. Place the chicken portions in a shallow-sided oven proof dish.
Trim the ends of the courgettes and cut each in half or thirds. Make four or five shallow cuts in each piece and tuck these in around the chicken portions. Cut the red pepper into sixths, scrapping away the seeds and place these around the chicken with the red onion. Pour in the wine, season with pepper and scatter over the cheese.
Bake in the preheated oven for 40-45 minutes or until the chicken is cooked. Scatter over the olives, basil leaves and tomatoes before serving.

Cooks Tips:
I prefer to buy thigh portions with the bone in as they portions remain moist and have better flavour, not to mention are cheaper to buy too.
In place of prosciutto use pancetta or bacon rashers.
Take your Radio, Podcasts and Music with you