Annabel Langbein's Christmas snowballs recipe
Publish Date

Friday, 23 December 2016, 9:40AM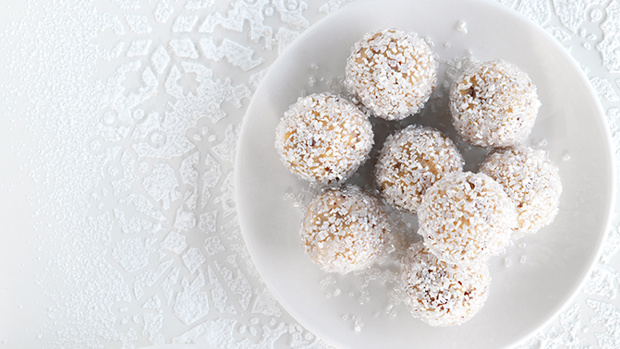 This special recipe was shared with me many years ago by a friend, Jennifer Duncan. It's a Christmas baking tradition from her Eastern European family heritage. Tender and buttery, these lovely cookies, with their tangy cherry filling, are now always part of my Christmas baking repertoire. You could use other fruit, such as chopped dried figs or cranberries. If you can't find ground walnuts, whizz up some whole walnuts in the food processor - just be sure to check that they are fresh first.
Directions
Beat butter, icing sugar and vanilla until light and fluffy (about 5 minutes). Add 1¾ cups of flour and walnuts and mix until it comes together into a manageable dough that will hold its shape when rolled into a ball. If dough is very sticky, add a little more flour. Chill for 20-30 minutes.
Preheat oven to 145C fanbake.
Wrap a heaped teaspoon of the mixture around each dried cherry and roll into a ball. Arrange on an oven tray lined with baking paper and bake until firm but not browned (about 30 minutes). When cool, roll in icing sugar and store in an airtight tin. They will keep for a couple of weeks and also freeze well.
For more great Annabel Langbein recipes see her new winter annual Annabel Langbein A Free Range Life: Share the Love (Annabel Langbein Media, $24.95) or visit annabel-langbein.com
Take your Radio, Podcasts and Music with you