Boysenberry and passionfruit syllabub trifle recipe
Publish Date

Thursday, 22 December 2016, 10:46AM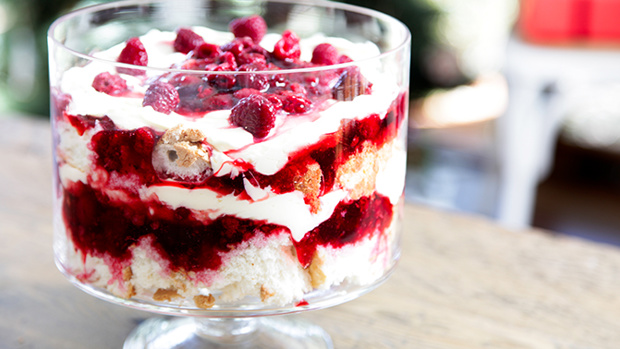 Annabelle White has shared a deliciously light trifle recipe with bite.co.nz: 
The simple twist of adding a syllabub (a whipped cream and egg white mix) to the top of a trifle makes it much lighter.

Ingredients
1½ packets Boysenberry jelly crystals, plus 2 cups boiling water
1 Sponge cake, a 20cm store bought sponge, or make your own
3 Tbsp Boysenberry jam
1 cup Cream
6 Tbsp Passionfruit curd, store bought
2 Egg whites
2 Tbsp Caster sugar
600 g Thick and creamy vanilla custard, store bought, in a carton
1 Whole nutmeg, to grate over trifle

Directions

Pour jelly crystals into a heat-proof bowl, add boiling water and stir gently until crystals dissolve, then leave to cool.

Slice sponge in half and sandwich with the boysenberry jam, then cut into large pieces and place into your trifle bowl. Pour the cooled jelly over the sponge and refrigerate for at least two hours until set.

Whip cream together with 3 tablespoons of passionfruit curd.

Whip egg whites to a firm peak, add caster sugar and whip 30 seconds more, gently fold the egg whites into the whipped cream.

To assemble, spoon the remaining 3 tablespoons of passionfruit curd in blobs over the set sponge, then evenly spread the thick custard over the sponge, followed by the cream/egg mix, and smooth out.

Grate a fine layer of nutmeg over the top before placing trifle in fridge to set for at least 1 hour. Garnish with fresh passionfruit or raspberries.

When ready to serve, scoop out two passionfruit and sprinkle pulp over the top of the trifle, or scatter fresh raspberries on top.
Take your Radio, Podcasts and Music with you