Caprese Salad With Balsamic Reduction Recipe
Publish Date

Friday, 12 February 2016, 9:59AM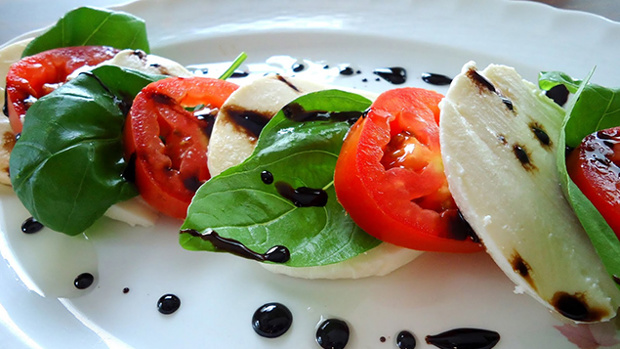 Tomatoes, fresh mozzarella, and basil drizzled with a sweet balsamic reduction and olive oil. Easy, impressive and delicious!

Prep Time: 15 mins
Cook Time: 10 mins
Makes: 4

Ingredients:
1 cup balsamic vinegar
1/4 cup honey
3 large tomatoes, cut into 1/2-inch slices
1 package fresh mozzarella cheese, cut into 1/4-inch slices
1/4 teaspoon salt
1/4 teaspoon ground black pepper
1/2 cup fresh basil leaves
1/4 cup extra-virgin olive oil

Method:
Stir balsamic vinegar and honey together in a small saucepan and place over high heat. Bring to a boil, reduce heat to low, and simmer until the vinegar mixture has reduced to 1/3 cup, about 10 minutes. Set the balsamic reduction aside to cool.
Arrange alternate slices of tomato and mozzarella cheese decoratively on a serving platter. Sprinkle with salt and black pepper, spread fresh basil leaves over the salad, and drizzle with olive oil and the balsamic reduction.
Take your Radio, Podcasts and Music with you