Gluten Free Milk And Cookie Shots
Publish Date

Friday, 13 November 2015, 2:24PM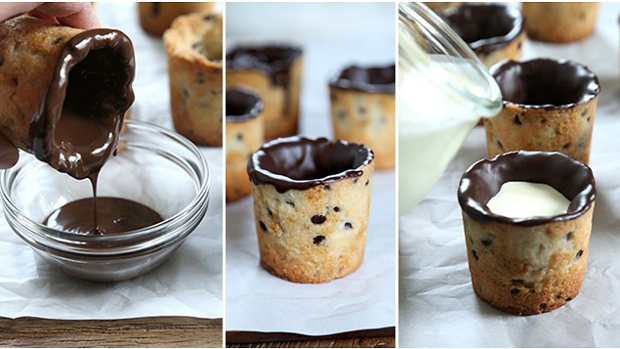 Try our easy and fun Gluten Free Milk And Cookie Shots. They're crispy on the outside, and softer on the inside, and the chocolate coating is pure deliciousness!

Prep time: 20 minutes
Cook time: 18 minutes
Makes: 6 to 8 cookie shots


Ingredients:
For the cookie dough:
1 1/3 cups all purpose gluten free flour
1/2 teaspoon xanthan gum
1/4 teaspoon koshering salt
3/8 cup granulated sugar
2 tablespoons packed light brown sugar
6 tablespoons vegetable fat shortening
2 tablespoons unsalted butter, at room temperature
1 egg white, at room temperature
2 teaspoons pure vanilla extract
85 grams miniature chocolate chips

For finishing:
225 grams semi-sweet chocolate, melted
1 1/4 cups milk


Method:

Preheat your oven to 190°C. Grease lightly the wells of a popover pan or 6 to 8 (depending upon size) individual baking cups in a similar size, and set aside.
In a large bowl, place the flour, xanthan gum, salt and granulated sugar, and whisk to combine well. Add the brown sugar and whisk again to combine, breaking up any lumps. Create a well in the center of the dry ingredients and add the shortening, butter, egg white and vanilla, mixing to combine after each addition. Knead the dough together with clean hands to moisten all of the dry ingredients with the wet ingredients. The dough will be very thick, but relatively soft. Add the chocolate chips, and mix until evenly distributed throughout the dough.
Press enough of the dough into each of the prepared popover pan wells or baking cups to cover the bottom and sides, pressing the dough into a compact layer all around that is about as thick as the miniature chips. Place the cups with dough in the freezer for about 10 minutes or until very firm.
Remove the cups from the freezer and place in the center of the preheated oven. If using individual cups, place them on a small baking sheet. Bake until lightly golden brown on the edges (about 18 minutes). Remove from the oven and allow to cool in the cups for 10 minutes before turning out onto a wire rack by inverting the cups and tapping firmly on the bottoms until the shots release. Cool completely.
When the cups are cool, coat the bottoms of the cups with chocolate. Working quickly with one cup at a time, fill about 3/4 of the way full with melted chocolate. Position the cup above a small empty dish, and turn the cup on its side to coat the cup with chocolate all the way up to the edges, pouring off all the excess chocolate as you rotate the cup. Invert the cup over the dish to pour off any remaining melted chocolate. Allow the chocolate to set, and fill the cups with milk immediately before serving.


Recipe courtesy of Nicole Hunn: http://glutenfreeonashoestring.com
Take your Radio, Podcasts and Music with you