Peter Gordon's top tips for a foolproof pavlova
Publish Date

Thursday, 1 December 2016, 3:22PM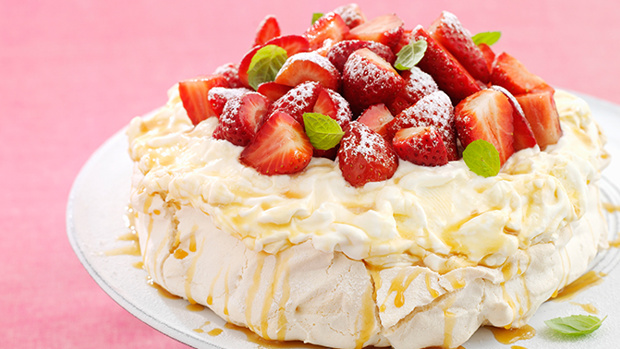 Author

By Peter Gordon
My mum Timmy makes the world's best pavlova and her recipe follows. She adds both vinegar and cornflour, and puts the pav into a hot oven but drops the temperature immediately. If you follow her guidance, you'll have the perfect result. Mum's been making pavs forever, so this is one recipe I don't mess with.
One thing pavs and their close cousins, meringues, don't like is humidity - as witnessed twice this past fortnight. I'm currently in Dubai and Abu Dhabi on a round-the-world working frenzy (or so it seems), and was in Fiji and Singapore a few weeks ago.
I witnessed both pavlova and meringues that had succumbed to the humid environments. In both cities I tried pavlova at one hotel and meringues at four, and pretty much all had lost the wonderful contrast of a crunchy outer shell, complementing a marshmallow centre, which I expect in a pav.
A meringue should be bone dry, but humidity, and even air conditioning, are the enemies, and instead they were all half way between chewy soft and firm.
Back in London, tomorrow I'll be judging a competition to see who has created the best "pavlova-inspired" recipe as part of the celebrations of the centenary of Anna Pavlova making Ivy House in Golders Green her home (she lived there between 1912 and 1931).
It has now become home to the Jewish Cultural Centre - although Anna herself wasn't Jewish - and we've teamed up to celebrate one of the world's finest ballerinas. The "Pavlova 2012" celebrations will include music, dance, literature and food, so it's a real privilege to be part of things in such a fun way.
The artistic director at Ivy House is also a New Zealander, Irene Newton, so I think we'll have some firm opinion about pavlova - the pudding. Last year, in another pavlova-related moment, I was asked to make one on Women's Hour on BBC Radio 4.
The Oxford English Dictionary, in its relaunched online edition, had declared that the debate was over- the pavlova was indeed invented in New Zealand. The first recorded pavlova recipe was in a book called Davis Dainty Dishes, published by the Davis Gelatine company.
It was a multi-coloured jelly dish. However, the radio show wasn't exactly what I'd call good radio. I was beating eggs for five minutes with an electric beater and a metal bowl and couldn't hear a word that the presenter was saying. I'd warned them. Bad radio, but good news for New Zealand's culinary historians.
Timmy's pav
Here's Mum's recipe for pavlova served with vanilla honey yoghurt cream and strawberry compote. Make sure you don't put the cream and strawberries on any longer than three hours before you're going to eat it as it'll go soggy.
3 large (jumbo) egg whites 
Just less than 1 cup caster sugar 
1 Tbsp cornflour, sifted 
1 dessertspoon malt vinegar (although Mum says any vinegar should be okay)
Oven at 180C. Line a baking tray with baking parchment.
Beat the whites until stiff, then slowly add the sugar, initially 1 Tbsp at a time. Mum likes to use a hand-held electric mixer for this. Once half has been mixed in you can add it a bit faster.
When all the sugar has been used, turn the mixer off.
Sprinkle the cornflour and vinegar over the top of the mixture and then slowly fold it in - don't beat.
Spatula the meringue on the tray then make any shape you want (a log, a round, a square). Place the tray in the oven then immediately drop the temperature to 130C.
Bake for one hour then turn the oven off and leave the pavlova to cool in the oven.
Vanilla honey yoghurt cream
Heilala make a delicious vanilla paste, which is perfect for this, although a good quality pure vanilla extract will also work. 

500ml cream (must be straight from the fridge) 
2 tsp Heilala vanilla paste 
3 Tbsp honey (any delicious honey will work here - but Manuka is best)
300ml chilled thick Greek style yoghurt (or try Clevedon Valley buffalo yoghurt)
Lightly whisk the cream and vanilla to soft peaks in a chilled bowl.
Whisk the honey into the yoghurt and add this to the cream, then continue to beat until it has firm peaks and it's ready to go.
Strawberry compote

This couldn't be simpler and it doesn't even need cooking. I like to add a few shots of Golden Stolen Rum if it's an adults-only dessert.

2 punnets strawberries 
5 Tbs icing sugar ½ tsp finely grated orange zest
Hull the strawberries, then slice about ½ cm thick. 
Toss with the icing sugar and zest and leave in the fridge for at least 2 hours. The juice that runs off is lovely, but keep it separate and drizzle over the pavlova as you serve it - if it's left on too long it can make the pavlova go a little soggy.
Take your Radio, Podcasts and Music with you