Red wine brownies are sending the internet into a frenzy
Publish Date

Friday, 25 November 2016, 8:52AM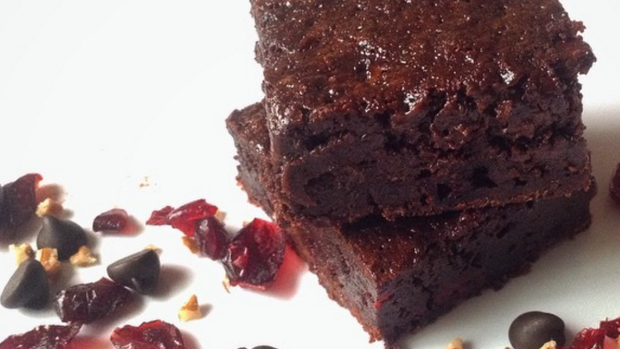 The arrival of Christmas drinks and food in shops has officially kickstarted the season of overindulgence.
But a hot new dessert trend sweeping social media may just be one of the most gloriously gluttonous yet - the red wine chocolate brownie.
This gooey and gratifying creation has been a storm on Twitter and Instagram - and more than a few bakers have been whipping up the boozy pud in their own kitchens.
And if you're unsure about how the dessert would actually taste - it has already received rave reviews on social media.
As well as using up leftover wine you've had lying about for a while, the dessert seems incredibly easy to make, if an Asda recipe is anything to go by.
Starting with the traditional 200g of dark chocolate, butter, caster and brown sugar, flour and eggs, you also need some coffee, vanilla extract and, of course, 250ml of red wine.



You then preheat the oven to 170C or gas mark 3, and grease a lined baking tin.
You start by melting the chocolate and butter together in a glass mixing bowl over a saucepan filled with boiling water.
You add the wine off the heat once it's melted together, and then mix in the sugar, flour, eggs, vanilla and coffee.
Bake on the middle shelf of the oven for 30 to 40 minutes. You know it's done when the knife comes out clean, just like with a cake.
Cool before cutting into squares and dusting with cocoa powder.
The easy pud has gone down a storm on social media.
Lena Penn tried out the recipe, and added cranberries to the mix too.
She wrote on Instagram: "A glass for the brownies. And a glass for me."
See below for a recipe so you can make them yourself and see if they really do taste as good as everyone says they are.
RECIPE: ASDA GOOD LIVING RED WINE BROWNIES
(Serves 12)
Ingredients:
• 200g plain chocolate, roughly chopped
• 170g salted butter
• 250ml Asda Extra Special Cabernet Sauvignon
• 250g caster sugar
• 75g light brown soft sugar
• 130g plain flour
• 3 eggs, beaten
• 1 tbsp vanilla extract
• 2 tsp instant coffee, dissolved in 1tbsp boiling water
• 1 tbsp cocoa, to dust
Method:
Preheat the oven to 170C/150C fan/gas 3. Grease and line a rectangular baking tray with greaseproof paper.
Melt the chocolate and butter in a heatproof mixing bowl over a pan of boiling water.
Remove from the heat and mix in the wine, followed by the sugar, then the flour, eggs, vanilla and coffee. Stir until evenly combined, then pour into the tin.
Place on the middle shelf of the oven and bake for 30-40mins until a light crust has formed and a knife, when inserted into the centre of the brownie, comes out clean.
Remove from the oven and leave to cool fully, then cut into 12 squares and dust with a little cocoa powder.
Take your Radio, Podcasts and Music with you