Stephanie Holmes - Five things to see and do in Italy
Publish Date

Thursday, 12 April 2018, 2:48PM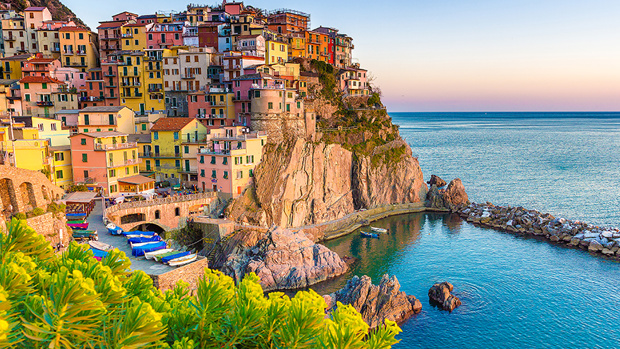 Walk the Cinque Terre
It's become endlessly popular with tourists since it gained a place on the Unesco World Heritage list in 1997, but that's no reason to stay away from the five villages linked by coastal paths that make up the Cinque Terre. Cars were banned more than a decade ago, so exploring by foot is even more rewarding. You'll be wowed by the colourful houses perched on steep terraced cliffs, intersected by historic fields and gardens. You're never going to get the place to yourself, but try low season of April-May or September-October for cheaper accommodation and fewer people. Hotels are closed in November, but you might still find apartments for rent. If you're not too picky about weather, this might be the ideal time to go? The most popular route is Trail 2 - the Blue Trail (Sentiero Azzurro), which can be walked in about six hours or spread out over a few days, staying at different towns along the way. Serious hikers might want to try some lesser-known trails like The Trail of Sancturaries and the Mountain Trails. parconazionale5terre.it/Eindex.php
Eat gelato in Florence
As pizza is to Naples, gelato is to Florence. There's some debate about its actual origins, but popular belief is that Bernardo Buontalenti first created the icy treat in the 16th century, serving it to the court of Catherina dei Medici. The word translates to "frozen" but traditionally it's served up to 15 degrees warmer than regular icecream. And you needn't feel too guilty about eating it - gelato is lower in fat than icecream . . . so that means you can eat twice as much, right? You'll find gelato on pretty much every street corner, not only in Florence, but throughout Italy. Look out for the word "artigianale" - this means the gelato is home-made in the shop with fresh, natural ingredients. La Carraia near Ponte alla Carraia is widely regarded as the best gelato shop in Florence - you can get a tasting cone for just €1, or a generous-sized regular cone for €2.50 ($4.07). Visitflorence.com recommends the "arachidi salati" (salted peanuts) and "biscottino" (cookies and cream) flavours.
Get away from the crowds in Trastevere
Rome is of course a must-visit, but the hordes of tourists, queues and pushy street vendors touting selfie-sticks can get a bit wearying. For relative peace and quiet, head to Trastevere, south of the Tiber and a world away from the Colosseum crowds. The medieval neighbourhood has labyrinthine streets and beautiful piazzas, including Santa Maria, watched over by a 12th century Basilica. Inside the church - one of the oldest in Rome - you'll find Cavallini mosaics that Lonely Planet says: "[depict] the font of oil that spouted when Christ was born - according to myth, the church was founded on that very spot." Pop inside Villa Farnesina to see Renaissance architecture and frescoes by Raphael, then walk through the University of Rome's botanic garden (Orto Botanica) for tranquillity among the more than 7000 plant species. Trastevere is also enjoyable by night, when the streets come alive with outdoor dining, bars and nightclubs.
Eat pizza in Naples
It's become a staple food for people around the world, but obviously we wouldn't have pizza if it wasn't for the Italians. The term was first recorded in the 10th century, but modern pizza originated in Naples in the 18th century. Neapolitan pizza is listed as a Traditional Speciality Guaranteed dish in the EU, and the True Neapolitan Pizza Association was founded in 1984 to "promote and protect" it. Naples' oldest pizzeria is Antica Pizzeria Port'Alba, where you can eat in at a full-service restaurant, or take away a slice. There are many others to choose from, many of whom have been serving their Neapolitans for decades. Di Matteo, open since 1936 and still popular, comes highly recommended.
Admire some art
Whether it's the Sistine Chapel ceiling in Vatican City, The Last Supper in Milan, or every single fresco in every single church you enter, art is everywhere in Italy. Hotels.com's list of the best art museums in the country includes Rome's Vatican Museums and Borghese Gallery, Florence's Bargello National Museum, the Uffizi Gallery (one of the oldest museums in the world) and Gallery of the Academy of Florence (where you'll see Michelangelo's David), the Academy Gallery in Venice and Perugia's National Gallery of Umbria. For contemporary art, don't miss Maxxi, the National Museum of Art from the 21st Century in Flaminio, Rome. The building is just as impressive as the collections inside - it covers more than 27,000 square metres and was designed by the late British-Iraqi architect Dame Zaha Hadid.
Stephanie Holmes is NZ Herald's Deputy Travel Editor, you can find her work here: www.nzherald.co.nz/travel/
Take your Radio, Podcasts and Music with you