Stephanie Holmes - Four ways to explore the Cook Islands
Publish Date

Thursday, 10 May 2018, 12:56PM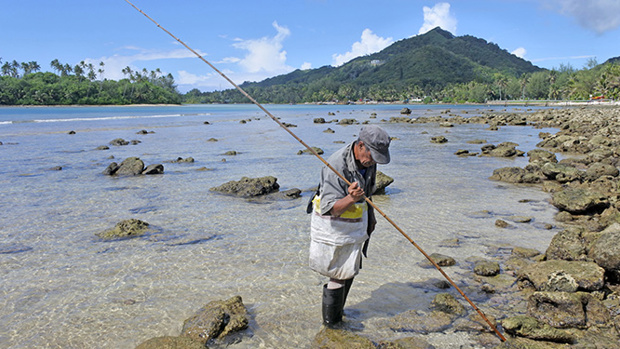 Aitutaki
If you think the white sand beaches of Raro are beautiful, just wait until you see the paradise awaiting for you in Aitutaki. The water is superlative, the sand so white you need sunglasses to look directly at it, and the snorkelling is sublime. Only 50 minutes' flight from Raro, you can easily visit for a daytrip, or there are plenty of accommodation choices on Aitutaki itself, suitable for a range of budgets. The broken-hearted might want to stay away, however—Aitutaki is a hot destination for couples, weddings, and honeymooners. If you are day tripping, don't forget to take your passport—you can send a postcard and get a quirky passport stamp at the post office/bar at Tapuaetai, otherwise known as One Foot Island.
Atiu
Also known as Enuamanu, or the island of birds, Atiu is home to a number of native species, including kura, kakerori, and the cave-dwelling kopeka. But it's not just for the twitchers — it's also a great place to learn more about the Cooks' pre-settler history. At the Moko Ero Marae, pillars of stalagmites once used as execution stones still remain, as well as one 5m stone that locals say is the body of the ancient Atiu peoples' god. Caves, culture, beautiful beaches and lush rainforest make Atiu a desirable destination ... even more so when you realise most tourists don't venture further than Aitutaki and Rarotonga, so you'll be able to find a piece of this tiny paradise to call your own. For a few days, at least.
Mangaia
Estimated to be more than 18 million years old, Mangaia is the oldest island in the Pacific. It is the southernmost of the Cook Islands, and the second largest (after Rarotonga), but has only 700 residents, spread across three villages. The largest is Oneroa on the west of Mangaia, which is where you'll find the only waterfront accommodation, Mangaia Villas. There are good cross-island walks, taking in lakes, cliffs and dramatic lookout points; and snorkelling here is excellent thanks to the thick coral reef surrounding the island.
Manihiki
Famous for its black pearls and pristine lagoon, Manihiki is in the Northern Group of islands — sparsely populated and rarely visited by tourists. There are a couple of accommodation options on the island, but scheduled flights only operate once a fortnight so you'll need to plan well in advance. One option for getting to Manihiki is Air Rarotonga's Northern Atolls Expedition —a three-night excursion allowing intrepid travellers to visit these isolated atolls. Calling at Penrhyn, Manihiki and Pukupuka, tours only operate once a month, April to October, for a maximum of eight travellers. Accommodation is provided by local families. For more information, contact [email protected]
Stephanie Holmes is NZ Herald's Deputy Travel Editor, you can find her work here: www.nzherald.co.nz/travel/
Take your Radio, Podcasts and Music with you