All the highlight moments from the Coronation Concert
Publish Date

Monday, 8 May 2023, 7:00AM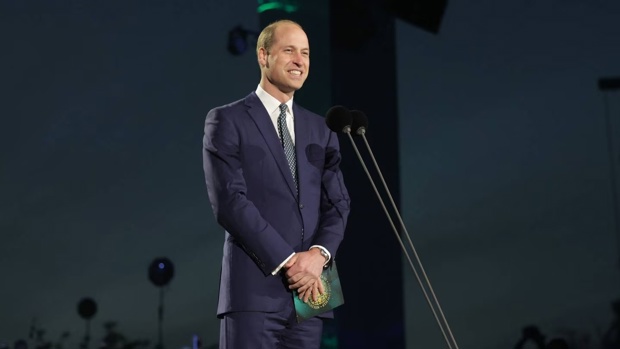 King Charles' coronation went off without a hitch on Saturday night and now the King is ready to celebrate with a bit of music.
Today, Take That, Katy Perry and Lionel Richie are among the global stars set to take the stage at Windsor Castle in what may be a once-in-a-lifetime opportunity for the artists. Celebrating Charles' new reign, the Coronation Concert will see an audience of around 200,000 people - including members of the royal family.
Here are all the highlight moments from the Coronation Concert:
Princess Charlotte and Prince George
Princess Charlotte attended the King's Coronation Concert and it seems the 8-year-old had a favourite act.
Sitting with her mum, brother and father, the young royal was seen waving a flag and singing along as US popstar Katy Perry performed her hit song Roar to a massive crowd.
The adorable moment was captured on BBC's coverage of the event with many taking to Twitter to share their thoughts. One person said, "That was the cutest moment" with another person adding, "She was absolutely loving it".
A third person said, "Looks like there's a new Katy Cat" in reference to Perry's slew of fans who call themselves "Katy Cats".
That wasn't the only moment the princess stole the show. Elsewhere, she and brother, Prince George were seen giggling together when Muppets Miss Piggy and Kermit the Frog made an appearance and said they were looking for their seats in the Royal Box.
Meanwhile, George was spotted sharing a moment with his father, Prince William. Captivated by the show, the two were seen laughing together as William pointed out something to George on the stage.
Grinning widely, the prince – who is second in line to the throne – put on an animated display clearly enjoying whatever his father had turned his attention to.
The Wales family was not joined by its youngest member, Prince Louis, 5, who likely skipped the concert due to the late nature of the show.
Edward and Kermit

Bonneville was interrupted by unexpected guests Miss Piggy and Kermit the Frog earlier in the night with Kermit revealing he and Miss Piggy had seats in the Royal Box.
Asked if he was sure, Miss Piggy replied: "I'm sure moi is - Oh Kermit it's him, a lord, a real lord! Can you believe moi is not yet a lady? Ah, I've always wanted to... Wait a second, are you single your lordship?"
Mr Bonneville said he was "flattered", to which Miss Piggy suggested they marry and quiped: "Lady Piggy! It sounds so right, doesn't it?" Kermit went on to ask for directions to the Royal Box, while Miss Piggy said: "King Charlesy-Warlesey is expecting him!"
It appears the two found their seats as Prince Edward was seen sitting and laughing with Kermit after Katy Perry's performance.
William's touching tribute
Addressing the crowd, The Prince of Wales took to the stage and reflected on words said by the late Queen Elizabeth, "As my grandmother said when she was crowned, coronations are a declaration of our hopes for the future, and I know she's up there fondly keeping an eye on us. And she'd be a very proud mother".
Acknowledging his father's service to the country and how Charles has "dedicated himself to serve others, both current and future generations", William said his father has "always understood that people of all faiths, all backgrounds and all communities deserve to be celebrated and supported."
The prince then signed off his speech with a touching message to the King, "Pa, we are all so proud of you".
Celebrity appearances

In a pre-recorded video, actor and friend of the Royal family, Tom Cruise said, "Pilot to pilot, Your Majesty, you can be my wingman any time."
It came after Pierce Brosnan revealed Charles was the longest-serving Prince of Wales, who "developed a host of action man skills", getting his wings as a fully-trained RAF pilot.
"He's also a naval aviator and a trained commando helicopter pilot," Bear Grylls continued. "The King even took on the Royal Marines Commando Training... not for the faint-hearted, trust me."
Charles grimaces at cheeky joke

Downton Abbey actor Hugh Boneville is on hosting duties today and he isn't taking them lightly. Opening the show with an entertaining monologue, Boneville triggered a slightly awkward grimace from the King.
Starting his speech by congratulating the newly-crowned King and Queen, the 59-year-old actor went on to pay tribute to Charles' love of the arts.
"He himself is a painter, an artist… The artist formerly known as prince," Bonneville said, in a reference to the late music legend.
Charles' reaction was a mix of a laugh and grimace as he processed the witty joke.
Everything you need to know about the Coronation Concert:
Who
Hosted by the actor Hugh Bonneville, the star-studded event will include performances from Perry, Richie, Take That as well as Paloma Faith, Olly Murs, the veteran rock guitarist Steve Winwood, and Nicole Scherzinger.
But the King understands pop music isn't for everyone and has included a few classical acts. Later in the evening, Andrea Bocelli, Welsh bass-baritone Sir Bryn Terfel and Chinese pianist Lang Lang will all take the stage for what no doubt will be captivating performances.
And just in case they aren't enough celebrities for you, it's expected that video appearances are being made by Tom Cruise, Dame Joan Collins, Bear Grylls, Sir Tom Jones and Oti Mabuse as well as Stella McCartney who is expected to give a spoken word performance on the theme of conservation. It's a performance that will reflect hers and the King's shared passion for environmental sustainability.
It's understood Ed Sheeran, Adele, Sir Elton John, Harry Styles and the Spice Girls declined invitations to appear due to other work commitments.
Also performing at the concert will be the Royal Ballet, the Royal Opera, the Royal Shakespeare Company, the Royal College of Music and the Royal College of Art. Sky News has reported the groups will come together for the first time ever to share a performance with the crowd that is set to reflect themes of love and togetherness.
With such a vast group of performances, it feels like it will be difficult to take your eyes off the stars of the show but there may be times when you want to as the visual backdrop projected onto Windsor Castle and the stage will showcase artworks by students from the Royal College of Art. There will also be a large light display forming the centrepiece of the concert.
How you can watch
While the concert is airing across many platforms in the UK today, it won't be broadcast in New Zealand until 8pm tonight on TVNZ1.
This article was first published in the NZ Herald and is republished here with edits and permission.

Take your Radio, Podcasts and Music with you