Auckland Flooding updates
Publish Date

Tuesday, 9 May 2023, 1:23PM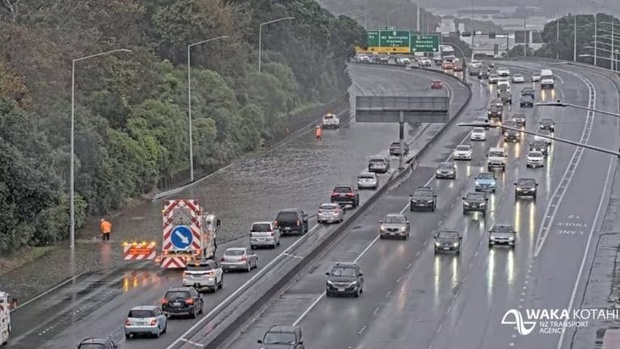 A new round of rapid damage assessments will get underway today with 100 homes and buildings flooded after an hours-long deluge swamped city roads and properties across the region.
The city remains under a local state of emergency, some roads are still closed because of flooding and there is a risk that waterways will continue to rise with periods of heavy rain and thunderstorms still possible.
At an Auckland Emergency Management briefing this morning deputy controller Rachel Kelleher said most roads affected by flooding were now reopened and the train network, which ground to a halt yesterday, was back to normal.
This morning Kelleher said the region was recovering quickly from the latest storm.
"Despite the rainfall emergency services have coped well," she said.
"Overnight the council received 39 requests for assistance. Two of these were for habitable floor flooding", Kelleher said.
Fire and Emergency NZ had also responded to a handful of call-outs for flood-related matters.
Kelleher said Civil Defence Centres set up yesterday afternoon across the region were used by a handful of people
"Ten people were in the Wellsford centre overnight and one person was provided temporary accommodation in the central city area..
The council's focus was now shifting, she said.
"We are starting to carry out rapid assessments throughout the Auckland area," Kelleher said.
"We have 30 Rapid Building assessment teams starting rapid building assessments throughout Auckland now".
At the moment 100 properties were waiting to be assessed for flood damage after yesterday's deluge, an Auckland Council spokesperson said.
"This number could change as teams continue to work during the day."
While the deluge overwhelmed Auckland's wastewater system tap water remained safe to drink", Kelleher said.
The state of local emergency didn't mean all schools need to remain closed.
There are currently no severe weather watches in place for Auckland today, she said.
Auckland Deputy Mayor Desley Simpson thanked Aucklanders for their patience while navigating a tricky situation travelling back home yesterday.
There will be a further council briefing at 9.30am which Mayor Wayne Brown is expected to attend after jetting in from Australia last night.
Auckland, Northland and Bay of Plenty were all under heavy and severe weather warnings yesterday as downpours battered the regions, causing surface flooding and commuter chaos.
MetService has issued a severe thunderstorm warning for Malborough and Nelson this morning.
The thunderstorms are expected to be near Marlborough Sounds and Tory Channel around 8am.
"These thunderstorms are expected to be accompanied by torrential rain."
Flooding has closed the southbound lane of Papakura-Clevedon Rd near the intersection with West Rd.
"Police continue to remind the public to take care on the roading network this morning following yesterday's weather," said a police spokesperson.
State Highway 1 at Dome Valley and Brynderwyn Hills has reopened after yesterday's storm.
Niwa reported that a combination of strong wind and cold air will bring temperatures near or even below 0C for most of the South Island.
"It will certainly feel much colder than what we've experienced over the past week."
The forecaster said wind gusts up to 70km/h may bring trees down after the recent rain.
Road snowfall warnings are in place for Lewis Pass, Arthurs Pass, Lindis Pass and the Crown Range Rd between 5pm and 11pm.
A road snowfall warning is in force for Milford Rd until 11am.
MetService has also issued a heavy snowfall watch for the northern hills of Southland north to the Waitaki River, excluding the lower-lying parts of North Otago, Dunedin and Clutha. This will be in place from 4pm today through to 2am tomorrow.
Christchurch's temperatures are expected to drop to 3C overnight and reach up to 15C over the weekend.
Twizel will dip to the negatives, with temperatures between 0C and -2C.
Auckland's overnight low will drop to 6C by Friday, with the day's high expected to be 16C. But the sun is expected to come out and it will be a fine day across the city.
Today's high for Auckland is 19C with a low of 10C.
It'll be chillier in Hamilton, with a low of 0C forecast for Friday. The city's highs will range between 13C and 16C from tomorrow through to next Tuesday.
Wellington's low temperatures over the next few days into the weekend range from 7C to 9C, and the highs between 11C and 15C.
Yesterday, Auckland had up to 109mm worth of rain, with the heaviest rainfall occurring in Te Pai Park in Henderson where 103mm fell.
The deluge prompted the Auckland Mayor Wayne Brown to declare a third state of emergency in four months.
MetService meteorologist Kathryn Hodge said the worst period of rainfall was between 10am and 1pm when Okura got 68.5mm worth of rain in two hours.
"It was a lot of rain spread out over the whole region."
Keep up to date at NZHerald.co.nz
This article was first published in the NZ Herald and is republished here with permission.

Take your Radio, Podcasts and Music with you