Can you beat Anne Hegerty's NZ trivia score?
Publish Date

Tuesday, 21 August 2018, 6:31PM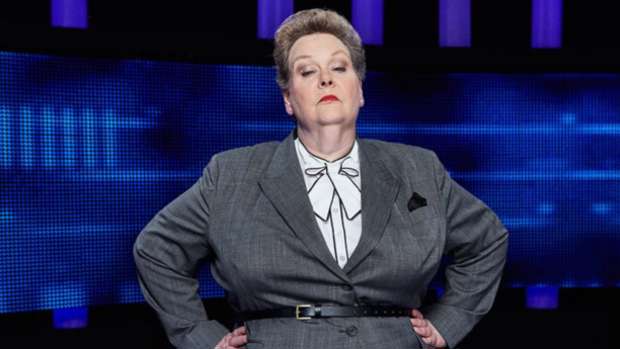 Anne Hegerty is peering out of the window of her Melbourne dressing room.
"I see a Corymbia tree," the 60-year-old quiz maestro says, describing the outdoor environment as naturally as if she was a local expert in the flora 17,000 kilometres away from her home in the English city of Manchester.
"It's a kind of gum tree."
You might know Hegerty better as "Chaser" The Governess on hit British TV quiz show The Chase, which airs on TVNZ 1 just before the 6pm weeknight news and is watched by a an average of 1.3 million Kiwis aged over 5 each week.
So, of course Hegerty knows about the bright-flowered trees growing outside the dressing room she's using during a two-week stint filming the Australian version of the show. She makes it her business to know.
"My producer came in and said 'Oh, you've got a gumtree here'. When she went away I looked it up. It's specifically a kind of tree called a Corymbia."
Aussie fauna has received the same treatment from the endlessly inquisitive Hegerty — she now knows the prolific brown birds she's been seeing everywhere are Indian mynas.
New Zealand can expect the same treatment during Hegerty's fleeting, four-day visit to Auckland, which began today.
No public events are planned, but should Kiwi fans cross paths with Hegerty they can expect a warm reception — on the phone she's nothing like her no-nonsense persona on The Chase.
"There's a bit of her in there."
Hegerty had a bit of her own Harry Potter journey to the top of the quiz food chain, a path marked both by missteps and serendipity.
She was always a "nerdy child who wanted to sit down and read books" and made it on to quiz show granddaddy Mastermind in the 1980s, but "didn't do very well".
But the appearance started a series of events, mostly through connections made via quiz competitions, which led to her eventually capturing the attention of TV executives looking for top female quizzers, of which there are few. She joined The Chase in 2010.
READ MORE:
It's a dream job, so much so that she doesn't know how much time she spends staying on form for the show, Hegerty says.
She competes in two pub quizzes a week, bigger competitions when she can and spends the rest of her down time reading and doing online quizzes.
But it has never felt like work for the former journalist and proofreader of academic books.
"It's the sort of thing I would simply do for fun."
She says the other key to success is psychological — staying focused and not panicking.
"You can screw up completely, sometimes because of the questions, but also sometimes because your mind just wasn't properly on it."
The quiz master might need to work on her New Zealand knowledge though — she scored just one from six in a pop quiz with the Herald, answering only one question correctly — that Lorde's debut single was Royals.
She didn't know who New Zealand's first female Prime Minister was (Dame Jenny Shipley), the name of the current Prime Minister's new baby (Neve), which national park is New Zealand's smallest (Abel Tasman) and how many capitals New Zealand has had (three).
She also didn't know how many world cups the All Blacks had won (three) — but she did know how to charm passionate followers of the black jersey.
"Don't they just hand it over to them at the beginning of the competition to save trouble?"