Celebrating Sir David Attenborough on his 97th birthday
Publish Date

Monday, 8 May 2023, 3:55PM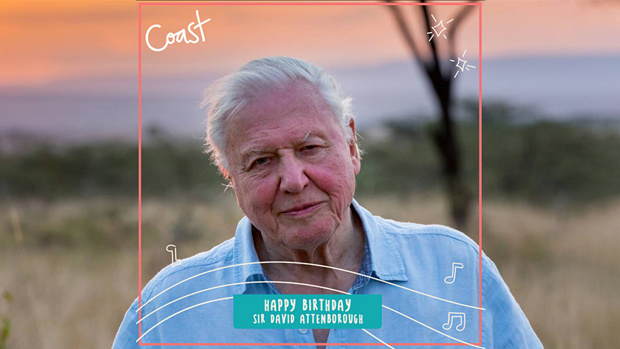 Sir David Attenborough has long been one of the most recognizable voices in the world with a personality and career that is beyond inspiring.
The naturalist, broadcaster and campaigner is ninety-seven years of age and his enthusiasm for the natural world continues to shine through in whatever projects he is involved in.
Here are some of our favourite moments from him:
Prince Louis, Prince George, and Princess Charlotte quiz Sir David Attenborough with nature questions
In an adorable video shared by Kensington Palace, filmed by their parents Kate Middleton and Prince William in the garden at Kensington Palace in August 2020, the three children can each be heard asking the veteran broadcaster, then 94, a question.
David Attenborough encounters a family of mountain gorillas
This has to be one of the most memorable and wonderful Attenborough sequences and has been voted as one of the top TV moments of all time.
It shows Sir David delivering a word-perfect ad-lib as he finds himself in an unplanned close encounter with this group of mountain gorillas. At the end of the clip, with one young gorilla lying across his body, just at the edge of the picture you can see the baby gorillas who were busy removing the presenter's shoes.
Meeting the Queen – The Queen's Green Planet
In 2018 the BBC made a documentary, The Queen's Green Planet, about the Queen's Commonwealth Canopy, a scheme to create a global network of protected forests in each of the 53 Commonwealth countries.
This footage here, of the late monarch and Sir David strolling around Buckingham Palace gardens looking at the trees, is quietly affecting. Just two nonagenarians, born 17 days apart in 1926, having a walk and a chat.
Christmas Island Crabs – The Trials of Life
One of the prerequisites of being a TV naturalist is that you must not be freaked out by animals. That's easy enough when you're handling a baby orangutan or a cuddly sloth, but less straightforward when you are on a beach that is swarming with tens of millions of crabs.
True pro that he is, in this extraordinary footage David Attenborough appears entirely unruffled by the fact that he is about to be devoured alive by the sheer weight of numbers of these confounded crustaceans, and keeps on calmly addressing the camera even as one starts to walk up his leg.
 We love you, Sir Attenborough!

Take your Radio, Podcasts and Music with you