Coronavirus: Prime Minister Jacinda Arden announces when New Zealand will reopen its border
Publish Date

Thursday, 3 February 2022, 11:31AM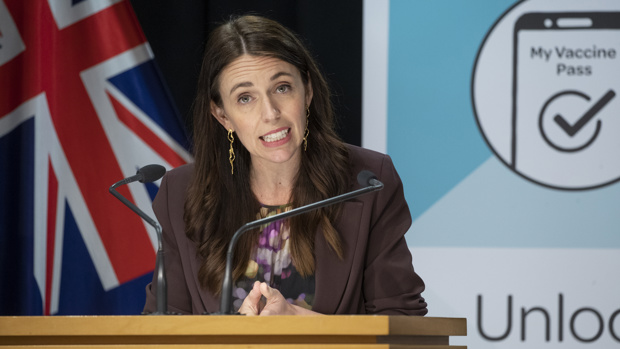 Prime Minister Jacinda Ardern has announced a five-step plan to fully reopen the New Zealand borders by October, starting with Kiwis in Australia from the end of February.
Fully vaccinated Kiwis and other currently eligible travellers in Australia will be able to travel to New Zealand from 11.59pm on Sunday 27 February without having to isolate in MIQ.
Instead of MIQ, those who are vaccinated will be allowed to self-isolate elsewhere.
In step 2, two weeks later on Sunday 13 March, fully vaccinated New Zealanders and other currently eligible travellers from the rest of the world will also be able to travel into New Zealand without going through MIQ.
"The two weeks between each of these steps has been requested by public health advisors to give time for our systems to adjust for the likelihood of more cases in our community, and for our border systems to keep scaling up in the safest way possible," Ardern said.
At step 2, there will also be an expanded border exception for critical workers, and skilled workers earning at least 1.5 times the median wage, who will also be eligible to enter New Zealand, along with highly skilled workers' family members who may have been separated from their loved ones.
"This means that health workers, farm managers, horticultural workers, tech sector professionals, those working for accounting services, in education and construction, will all be eligible to enter New Zealand, and self-isolate for a short period and then go about their business.
"Adding to the more than 17,000 critical workers who have already come to New Zealand since our borders closed."
Working Holiday Schemes will also reopen in stages from step 2, Ardern said.
Step 3, which begins from 11.59pm on Tuesday 12 April, will further extend our border to include a large international student cohort of up to 5,000 students for entry ahead of semester 2 and temporary visa holders who still meet relevant visa requirements.
Step 4, which Ardern said is the biggest expansion yet, includes our Australian cousins and all other visitors and business travellers who can normally enter New Zealand without a visa.
"This stage is likely to begin when we have much larger case numbers than we have now. For planning, we anticipate this stage will begin no later than July.
"I want to place strong emphasis on this being the latest we expect this to begin. There is a high likelihood of this date coming forward as we progress through the next stage of the pandemic."
From July, those on the new Accredited Employer Work Visa will open, including for workers offshore.
At this point, the critical worker border exception will be removed.
The new work visa will be mainly available to workers earning over the median wage as part of the Immigration Rebalance changes.
Step 5 begins in October and includes all other visitors and students who require a visa to enter New Zealand, with normal visa processing resuming.
On isolation requirements, Ardern said travellers will be asked to follow "broadly the same requirements we have in New Zealand for close contacts at the time of their travel".
This was due to the likelihood of coming into contact with Omicron on their journey.
"That means currently, returning New Zealanders will need to self-isolate for 10 days. But as the isolation period drops for close contacts here in New Zealand, as it does in phase two of our Omicron response, so too will returnees only need to isolate for 7 days."
On testing, all arrivals will be given three rapid antigen tests upon arrival at the airport, to take home.
One for use on day 0/1, and one for use on day 5/6, with one extra for backup.
"If a positive result is returned at any point, returnees will be asked to get a follow-up PCR test at a community testing station," Ardern said.
The Defence Force will also begin withdrawing from MIQ, with some hotels returning to traditional use to support the return of our tourists.
Take your Radio, Podcasts and Music with you