Couple who promised to marry if they were single at 50 keep their word
Publish Date

Friday, 8 June 2018, 9:18AM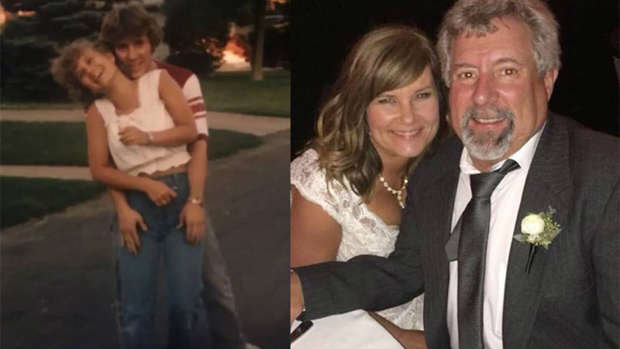 A couple who promised decades ago they would marry each other if they were still single aged 50 has done just that, after years of being best mates!
Kimberley Dean, 51, and Ron Palmer, 54, tied the knot last week, fulfilling the pact that had started as a "complete joke", as Kimberley told Today.
The pair, from Saint Paul, Minnesota, have been friends for 37 years. They were first high school sweethearts but broke up because Ron wanted to "sow [his] oats", according to the Daily Mail.
"I thought at that young age, girls were a dime a dozen and I could get along with anybody — so we broke up,' he said. 'But we broke up on good terms. We remained friends."
Over the years, Ron and Kimberley got into the habit of calling each other whenever one of them would go through a breakup. It was after one of those calls that they ended up making their marriage pact.
"It was a complete joke," Kimberley said. "We were both single at the time and we were just both fed up with dating and all the craziness that goes with that."
The promise dates back to several decades ago, though neither Ron nor Kimberley can remember the exact date.
Kimberley, who works for her school district, had gone through a divorce and had two children, whom Ron, an iron worker, would sometimes look after and take camping.
Back when they made their promise to each other, Ron had no children of his own.
"It was something along the lines, since she's two and a half years younger, 'Once you hit 50, if we're both single, maybe we should try this again,'" he recounted.
Kimberley and Ron remained friends, and never let more than six months elapse between their conversations. In addition to babysitting Kimberley's children, Ron once helped get her son's late hamster out of its cage.
"That's the kind of friendship we have," Kimberley said. "'If you need something, I'm there for you.' It's always been that way for us. We've always clicked."
Finally, in 2016, Ron and Kimberley started dating again, and on New Year's Eve last year, Ron popped the question.
The wedding took place on Friday, with Kimberley's son Konner walking her down the aisle while her daughter Kayla acted as the maid of honor.
"We had a pretty exciting day on Friday. It was awesome," Ron said.
The bride called the day "beautiful", adding: "We were surrounded by friends and family. It was overwhelmingly breathtaking and so full of happiness."
Ron made it clear he is, and has always been, smitten with his new wife.
"We started out as friends, we fell in love and we parted as friends, but we still cared for each other," he said. "I've always loved her because she's such an awesome friend."
As for Kimberley, her only regret is not tying the knot with Ron sooner.
"Everybody jokes, 'Well, it's about dang time.' We waited a long time to finally get to this point," she said.
"Everything you go through to get to here was worth it. I just wish it could have been a little earlier. What can I say? I love him. I'm head over heels."
Kayla told the Star Tribune that Ron has played the role of a father for herself and for her brother Konner, adding about Kimberley and Ron's romance: "People who are meant to be together will always find each other. It may take 37 years, but it can happen."
How adorable is this story! We are so happy for Ron and Kimberley.
This article was first published on nzherald.co.nz and is reproduced here with permission.