Cyclone Gabrielle: National State of Emergency declared following trail of destruction across North Island
Publish Date

Tuesday, 14 February 2023, 9:16AM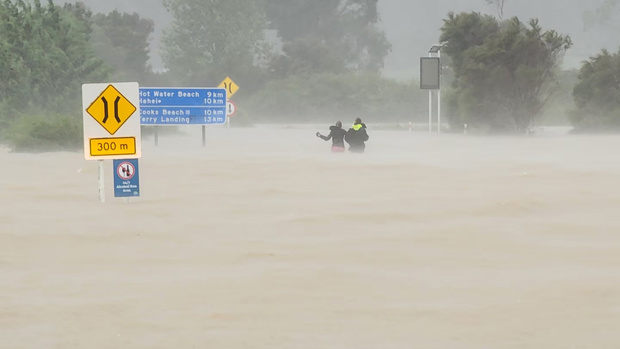 Several hundreds of significant incidents overnight, including emergency evacuations and rescues
Tens of thousands of homes are without power across North Island - and entire settlements, including Piha, have been cut off by slips, flooding
Ten states of emergency - Auckland, Northland, Coromandel, Bay of Plenty, Gisborne, Ōpōtiki, Waikato, Hauraki, Whakatane and Hawkes Bay
Mass power outage, flooding event in Hawkes Bay
A firefighter is missing and another is critically injured after a landslide occurred in Auckland's west coast beach settlement Muriwai
Cyclone Gabrielle has pummeled North Island regions, with major flooding and slips cutting off many residents and homes - and a national state of emergency may be declared.
This is only the third time in New Zealand history that a National State of Emergency has been declared.
"This is an unprecedented weather event that is having major impacts across much of the North Island," Emergency Management Minister Kieran McAnulty said.
This declaration will enable the Government to support the affected regions, provide additional resources as they are needed, and help set the priorities across the country for the response.
Emergency services have seen a sharp rise in callouts overnight across many regions - including to "a number of collapsed houses in Auckland"; trees fallen on homes; flooding; slips; and burst riverbanks.
In total, there have been almost 900 storm-related callouts in the 12 hours to 4am including 55 between 3am-4am - nine in Northland, 12 in Auckland, 12 in Waikato, three in Bay of Plenty and 19 in Hawke's Bay.
Beachside areas such as Piha and Karekare and other settlements in Coromandel have been completely cut off and the Herald understands search and rescue units from across New Zealand are rushing to Auckland, including South Island teams.
Emergency services rushed to the beach settlement of Muriwai, 42km northwest of Auckland, at about 10.50pm as heavy rain and strong winds pummelled the region - Fire and Emergency (FENZ) told the Herald it had received reports two houses had collapsed.
A firefighter is missing and another is critically injured after a landslide occurred. The volunteer firefighters were investigating a flooded house on Motutara Rd when a landslide occurred on the slope above and crushed the house. The search for the missing firefighter has been suspended.
There's been incredible scenes of rescues across Auckland, including farmers pitching in with diggers to help Fire and Emergency crews rescue half a dozen families from flooding in rural south Auckland.

Fifty apartments in central Auckland have been evacuated over fears a tower will collapse as heavy rain and winds whipped up by Gabrielle.
Evacuations are underway in Dargaville, Northland due to flooding threat as the incoming high tide approaches. State Highway 12 and 14 are both closed due to flooding.
A serious flooding event is unfolding in Hawkes Bay and a widespread power outage has hit Napier and Hastings. Residents are being evacuated from 15 flooded properties in Waipukurau.
Western Bay of Plenty declared a local state of emergency at 10.40pm and residents in Athenree, Maketu and Waihi Beach were told they were at serious risk of flooding from coastal surges. Further east, up to 500 homes in Ōpōtiki are being evacuated over flooding fears.

Gisborne residents in low-lying areas have also been asked to leave their homes due to rising rivers and surface flooding endangering properties. And there's been a break in Gisborne City's water supply with locals being urged to conserve water.
Coromandel residents have also been enduring a "miserable" night - dramatic images show the main highway to Hahei was already flooded by early evening, forcing people to abandon their cars.
The flooding and evacuations come as Cyclone Gabrielle is expected to continue moving southeast as it strikes New Zealand - latest MetService forecasts warn of more "significant heavy rain and damaging winds" today. 
At Auckland Airport, meanwhile, 45,000 travellers were affected after all domestic flights in and out of the city, and most international flights, were cancelled yesterday.
Hundreds of flights through the city's airport were axed and Air New Zealand said it would take days to recover its schedule.
The airline was to resume domestic and international jet operations from mid-morning today, and turboprop operations from mid-afternoon, based on current weather predictions.
All Interislander ferries have been cancelled until Wednesday morning - affecting 12 sailings across the Cook Strait.
This article was first published on nzherald.co.nz and is republished here with permission.
Take your Radio, Podcasts and Music with you