Elton John performs 'Don't Let the Sun Go Down On Me' during star-studded living room concert
Publish Date

Tuesday, 31 March 2020, 11:04AM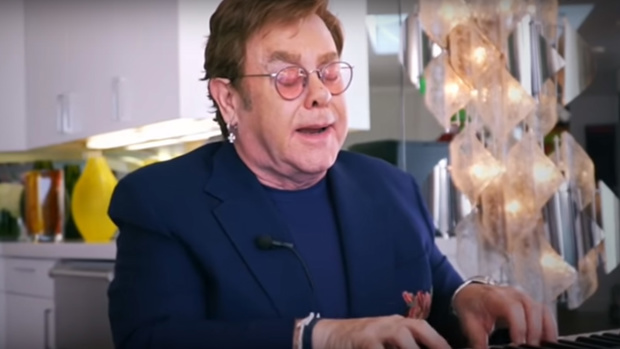 Last night, Sir Elton John attempted to bring a little bit of joy into fans' homes with his iHeart Living Room Concert.
Joined by some of the biggest names in music - including Alicia Keys, Billie Eilish, Lady Gaga, Mariah Carey, Lizzo, Sam Smith, Dave Grohl, the Backstreet Boys, Tim McGraw and Billie Joe Armstrong - the 'Candle In The Wind' hitmaker's hour-long concert aimed to raise money for Feeding America and the First Responders Children Foundation.
But while the entire hour of his "living room" concert was great, with the musicians performing ad hoc from their homes, the real cherry on the top was the surprise performance from Elton himself ...
At the end of the evening, after claiming he didn't have a piano in his house, the legendary singer sang an impromptu yet moving rendition of 'Don't Let the Sun Go Down On Me' from behind a keyboard.
The 72-year-old performer told viewers: "I lied."
He explained the keyboard belonged to his sons, who take lessons on it, and made sure to clarify, "I don't normally play a keyboard like this."
READ MORE:
• This 1991 video of Rowan Atkinson hilariously interviewing Elton John has gone viral
• 14-year-old stuns with her cover of Elton John's 'Goodbye Yellow Brick Road' on America's Got Talent
Elton dedicated his brief set to "the incredible heroes mentioned before, so here goes."
Earlier in the evening, the Oscar-winner had kicked things off by saying: "Here we are, all together at home. You've got your family and loved ones, and I've got mine close too. ... We're taking care of each other through this crisis.
"Let me tell you what's going to keep us together: All the goodness that's happening in the world. There's doctors, nurses and scientists on the front lines. They're living proof that most superheroes don't wear capes ...
"And since we're all hunkered down together, until those days greet us again, we thought we'd put together a little show for you.
"For the next hour, we'll do what we can to lift your spirits ... say hi and tell you we love you."
You can watch the full set below:
Take your Radio, Podcasts and Music with you