Elton John reveals he secretly battled prostate cancer and was told he had just 24 hours to live
Publish Date

Monday, 7 October 2019, 9:09AM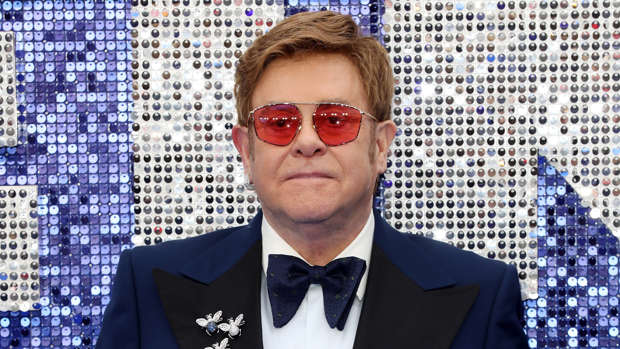 Sir Elton John has revealed he was just "24 hours from death" when he contracted a rare infection, 10 days after surgery for prostate cancer.
The 72-year-old music legend was diagnosed with the big C in 2017 and opted for surgery rather than chemotherapy because he did not want the disease "hanging over" his family.
Writing in his memoir, Me: Elton John, he said: "It was prostate cancer. I wasn't as shocked at hearing the word 'cancer' as I might have been.
"They'd caught it early. The oncologist told me I had two options. One was surgery to remove my prostate.
"The other was a course of radiation and chemotherapy that meant I would have to go back to hospital dozens of times. I went straight for the surgery."
The 'I'm Still Standing' hitmaker said the surgery in Los Angeles was a "complete success" but he was later "24 hours from death" after contracting an infection in South America.
He spent 11 days in a London hospital and would reportedly lie awake at night "wondering if I was going to die."
READ MORE:
• This 1991 video of Rowan Atkinson hilariously interviewing Elton John has gone viral
• Elton John has released the EPIC extended musical number of 'Honky Cat' from 'Rocketman' biopic
Elton wrote: "I was incredibly lucky - although, I have to say, I didn't feel terribly lucky at the time. I lay awake all night, wondering if I was going to die. In the hospital, alone at the dead of night, I'd prayed: Please don't let me die, please let me see my kids again, please give me a little longer."
"I was taken to King Edward VII's Hospital in London, where I had a scan. I was told that my condition was so serious, the hospital didn't have the equipment to cope with it. I had to be moved to the London Clinic. My last memory is of hyperventilating while they were trying to find a vein to give me an injection ... By 2.30pm, I was on the operating table, having more lymphatic fluid drained - this time from my diaphragm.
"For two days afterwards, I was in intensive care. When I came round, they told me I'd contracted a major infection in South America, and that they were treating it with massive intravenous doses of antibiotics. But the fever came back.
"They took a sample of the infection ... it was much more serious than they'd first realised. There were MRI scans and God knows how many other procedures. The doctors told David I was 24 hours away from death. If the South American tour had gone on for another day that would have been it: brown bread."
Once he was discharged from hospital, the father of two spent seven weeks "recuperating, learning to walk again."