Publish Date

Friday, 13 April 2018, 10:08AM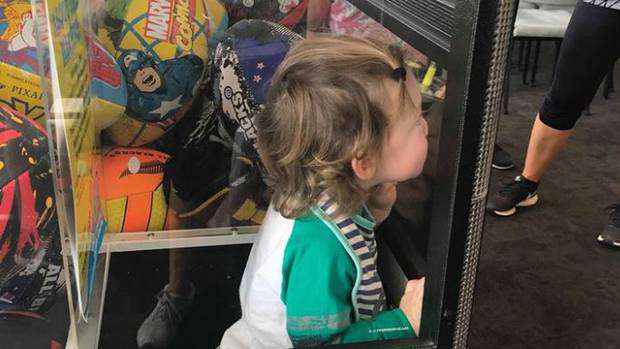 One of the Chiefs youngest fans has gone to extreme lengths to get his hands on a Chiefs Rugby Ball in a Claw Vending Machine in the Waihi Beach RSA.
One-year-old Jackson Sheppard was SO keen to get his hands on a Rugby ball that he got stuck inside the machine filled with Rugby Balls and climbed inside. 
His, dad Greg Sheppard, said he was unsure which team's ball he was trying to grab but given he played with a Chiefs flag at home, it was probably the Chiefs ball he was after.
"He's got a Chiefs flag and he drags the Chiefs flag through the house," Sheppard said.
Sheppard said he was heading into a meeting when he received a message from his wife telling him Jackson was stuck in the machine after trying to get a rugby ball.
"I thought she was joking," Sheppard said.
"He could not get out as the door was opening only one way by the inside. It is quite a little kid and a big machine.
Sheppard said his family was thankful to the fire brigade and Peter Spiers electrical because a couple of their electricians managed to get Jackson out.
"We are lucky as Jackson is very cruisy, he only panicked at the end when the men came (to break the door)," he said. "He started to get a bit frightened of that noise.
Sheppard said he dropped a "couple of dozen" off to the electricians as a thank you.
In the end, however, all that work was for nothing as Sheppard said Jackson "didn't get the ball at the end" because they were just out of reach.
"It was a bit frustrating for him. I cannot believe he got stuck inside the machine but it will be a good memory for his 21st."