Hilarious wedding dress listing
Publish Date

Wednesday, 10 January 2018, 2:07PM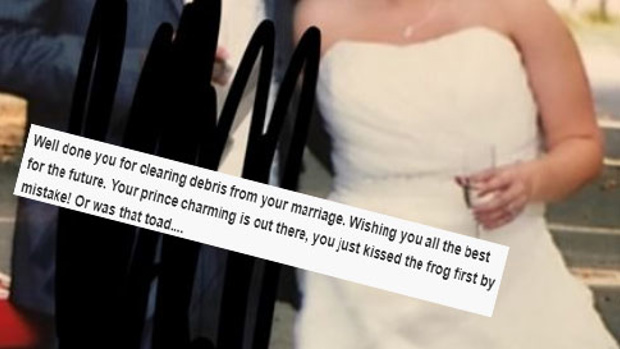 A Kiwi woman has had Trade Me users in hysterics after posting a hilarious, sassy ad to sell her "once worn by mistake" wedding dress.
The Masterton-based woman was married in 2013 but wasn't shy about revealing she was wanting to part ways with not just her husband, but the wedding dress.
Wanting to give someone the opportunity to find a happy marriage, unlike her, she posted a description of the size 14 white dress.


Photo / TradeMe
"Wedding dress for sale - worn once by mistake! Please help remove this dress from my life, it no longer means anything to me," she wrote.
"It is in excellent condition - unlike my marriage - Pretty much brand new and ready for a legit wedding after a practice run back in 2013.
"This stunning off-white gown would fit a 12-16 as it has a lace up back so very versatile it comes with a certificate of authenticity and I have personally hand-washed the bad luck out of it!"


Photo / TradeMe
The former bride said the chiffon, A-line style dress with side ruffles was stunning to wear - before taking a stab at her former husband.
"It looks stunning on, enough so that it will distract you and your guests from the fact that you are marrying a compulsive liar.
"Also great evening wear if you enjoy a night out and want people to buy you drinks or would be an excellent outfit choice for house cleaning and dishes [if Disney role play is your thing]. "


Photo / TradeMe
If you're looking for measurements, you'll have to go and try it on yourself as it was "custom made for a little girl who thought she deserved less than what she was worth and she is now a strong woman".
At a starting price of just $300, the woman is hoping to put the sale of the dress to good use.
"I would ideally like over $300 for this dress, as this would pay for a year's gym membership for me to lose the kilos I put on from such a miserable marriage - either that or a decent night out on the wines, both are needed - so make an offer!"


Photo / TradeMe
The seller has received positive feedback from Trade Me users.
One person wrote: "No question - just mad respect. Onwards and upwards, girlfriend!"
Another said: "You go girl!"
But the final word was left for the former bride who took one last stab at her former partner.
"Apologies for the photos some of these I have lost around 90kgs if baggage."
The auction closes on Tuesday, January 16 at 9pm.
This article was first published on NZ Herald and is republished here with permission