Roy Orbison hologram tour announced
Publish Date

Friday, 20 April 2018, 10:13AM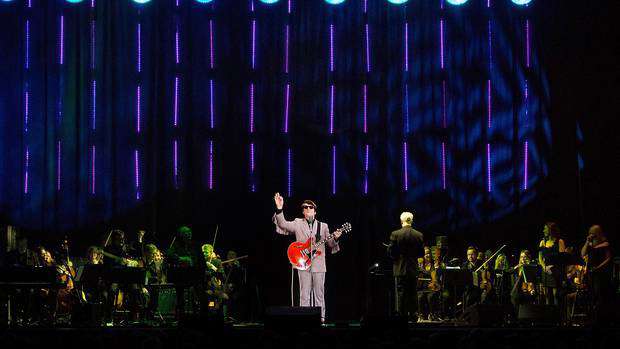 Later tonight, in Britain's coastal resort town of Bournemouth, Roy Orbison will walk on stage and perform a set of his greatest hits.
And what hits they are! Oh, Pretty Woman, You Got It, Crying, Only the Lonely, In Dreams and the 80s glory of his plaintive cover of the admittedly slightly creepy/stalkerish I Drove all Night.
The Big O recorded that last one in 1987, but confusingly it wasn't released until 1992. Four years after he had the heart attack that killed him in 1988.
He will appear dressed in an immaculate grey suit, holding his fire engine red Gibson ES-335 guitar and, of course, wearing those iconic jet black shades.
Through some unholy alchemy of technology and black magic the Big O has been resurrected as a hologram. While he's not the first deceased hologram performer - Tupac, Elvis and Michael Jackson amongst others have performed - it is the first tour of this scale ever undertaken by a hologram.
But more than that, it's the first time the underlying tech has been good enough to convince or fool. Jackson and 'Pac looked like video game graphics, glowing with a bluish hinge similar to R2-D2's projections of Princess Leia in Star Wars.
This does not look like that. What it looks like is that Roy Orbison is right there on stage performing in front of you. If you didn't know any better there's no way you would know that he wasn't really there. It is, in every sense of the word, incredible.
Sadly, it's not likely to be cheap enough. Holo-Orbison tickets are a whopping $120 NZD.
No matter what you think of holo-gigs best get used to them. More holo tours are coming. Holo-Abba are hitting the road on tour next year and the real ABBA are very much alive. Just obviously quite lazy.
So with the living getting in on the act as well it's safe to say these holo-gigs aren't likely to be a fad. Especially with heritage or nostalgia acts. Really, it's the emergence of a new form of entertainment.
The future is now. Why not see everyone you never could while you still can?
This article was first published at nzherald.co.nz and was republished here with permission.