Keith Urban and Nicole Kidman's wholesome response to Dolly Parton's request to do a song together
Publish Date

Wednesday, 9 February 2022, 3:55PM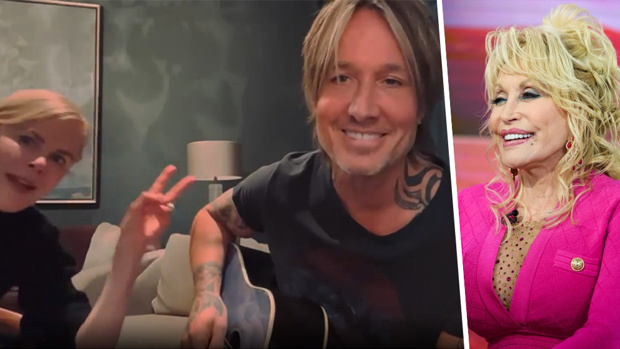 Could Keith Urban and Nicole Kidman be any sweeter?
The Kiwi musician was left blown away by a recent interview of Dolly Parton's.
Appearing on Good Morning America to promote her Southern-inspired cake mixes, the country music queen gushed over Urban revealing that she'd love to work with the "good-lookin'" singer.
When asked if she could bake a cake and sing a duet with any artist — particularly, an artist she hasn't collaborated with already — who would she choose and why, Parton said: "Oh my goodness! That's a really good question.
"I've always thought that he was one of the most talented and cutest guys in the world — I'm not trying to hit on him, because he's got Nicole [Kidman] and who could beat that, she's Jolene."
She continued: "I love his writing and I just think he's dear. He reminds me so much of my brothers and my own family from back home ... he'd fit right in. So, I'd be happy to make a big ol' cake for him and spend all afternoon singing songs."
And Urban had the most wholesome response.
Taking to Instagram, the 53-year-old country music star shared a video of him briefly covering her 1977 song 'Applejack' before saying: "Ms Dolly. I'm so honoured of the things you said. Thank you. I definitely will have a cake with you."
Kidman jokingly added in: "I'll bake the cake with you! But don't take my man!"
Thanking the 'Islands In The Stream' singer again, Urban continued: "Thank you so much. We love you, Dolly. We love you. I would love to have cake with you, and I would love to do a song with you sometime. Let's do that. Love you."
Alongside the clip, he wrote: "Name the time and place @DollyParton…we'll be there."
How good would a Dolly and Keith duet be?!
Take your Radio, Podcasts and Music with you