The politician, Catherine Noone, subsequently deleted the message and claimed it had been a 'benign chat' during which she expressed "no political opinion".
READ MORE: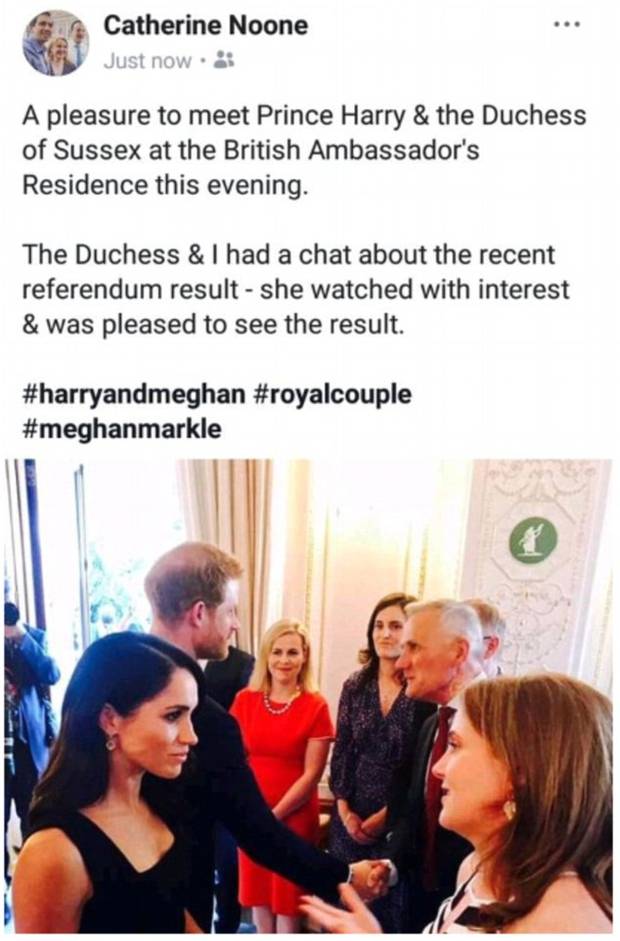 READ MORE:
Her original tweet said: "A pleasure to meet Prince Harry and the Duchess of Sussex at the British Ambassador's Residence this evening.
She wrote: "The Duchess and I had a chat about the recent referendum result - she watched with interest and was pleased to see the result."
After the posting received several replies suggesting that Meghan may have broken royal protocol by expressing a political opinion, she replaced it with a simple message saying what a pleasure it had been to meet her.
She later wrote: "I clarified - it was a very benign chat, she expressed no political opinion. She was interested and charming.
"It was misleading so I deleted it."
By convention, members of the Royal Family should refrain from commenting on politics or involving themselves in political issues.
It is an interesting situation for the former actress who had been politically active from an early age.
Aged just 11, she successfully campaigned to have a washing detergent advert's sexist language changed.
She also said in 2016 she would move to Canada if "misogynistic" Donald Trump was elected US president.
Ireland had one of the most restrictive abortion regimes in the world with the Eighth Amendment prohibiting abortion in all circumstances, except if there was a real and substantial risk to the life of a mother, including by suicide.
In May the country voted by more than 66 percent to overturn the ban following an impassioned public debate.
At the same garden party, held at the residence of the British ambassador to Ireland last night, Meghan also met campaigner Vicky Phelan, a terminally ill mother-of-two who bravely exposed a cervical smear test scandal and threw her weight behind the "Yes" vote, revealed that Meghan has been "following her story" and "told her to keep going".
This article was first published on dailymail.co.uk and is reproduced here with permission.