Meghan Markle lands in Germany for Invictus Games, apologises during first speech
Publish Date

Wednesday, 13 September 2023, 1:21PM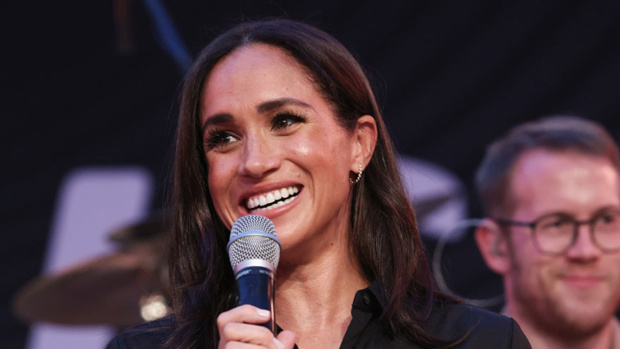 Meghan Markle was beaming as she arrived in Dusseldorf today to attend the Invictus Games with her husband Prince Harry.
The Duchess of Sussex was all smiles as she was photographed donning dark oversized sunglasses and a detailed scarf as she sat in the back of a luxury Range Rover.
She caught a red-eye flight from Los Angeles to Heathrow Airport with less than a two-hour layover before jetting off to Germany on a British Airways connecting flight.
The trip marks the Duchess' first transatlantic flight since her visit to London last year September for the late Queen Elizabeth's funeral, reports the Daily Mail.
Sign up to Coast's newsletter for exclusive prizes and to keep up to date with the latest.
What's more, she will also be able to join her husband Prince Harry in celebrating his 39th birthday which is coming up on Friday, September 15.
The former Suits actress arrived in Germany just after 4 pm and dashed from a VIP airport terminal to the five-star Hyatt Regency hotel where she would have been reunited with Harry.
The 42-year-old was driven into the hotel's underground car park after the 20-minute car journey in tow with her brawny bodyguard, former Secret Service agent Chris Sanchez.
Meghan then arrived at her first event of the Games, making her first speech and welcoming all those attending the event for wounded and disabled military veterans.
The Duchess took centre stage as she gave an emotional address to 1,600 competitors, friends and family from the 21 countries taking part in the Games.
An insider close to the royals said Meghan did not read from a prepared speech but spoke completely from memory.
She made a sweet reference to her kids Archie and Lillibet during her debut speech.
The royal apologised for missing the opening of the games, revealing that she had to spend time getting her young children settled in California - which included buying them milkshakes and taking Archie to school - before making the trip over.
She told the attendees: "It is so special to be here sorry I'm a little late to the party.
"I had to spend a little more time getting our little ones settled at home and get them to drop off.
"Three milkshakes and a school drop off and I just landed a couple of hours ago and I am thrilled that the first event I can do for Invictus is here with all of you. It is amazing and I hear it has got off to a good start so far."
She added that she would like to bring her kids to the event one day so that they can experience it for themselves.

Meghan went on to tell the guests that she had visited a Fisher House in LA a few weeks prior to the Invictus Games and was "moved" by what she saw. Fisher House provides aid to veterans and their families and is also one of the main sponsors of the Games.
She said: "They understand, as does my husband in previous Invictus Games how much rehabilitation matters, not just a solitary experience but as a family.
"I am very proud of the Invictus family that are here.
"So many people at home are rooting for you. Thank you, and look forward to a fantastic week. I can't wait until one day to bring our kids so they can experience how fantastic it is."
This article was first published by the NZ Herald and is republished here with permission. 

Take your Radio, Podcasts and Music with you