Michael Bublé shocks The Project with fan's X-rated tattoo confession
Publish Date

Thursday, 8 June 2023, 1:04PM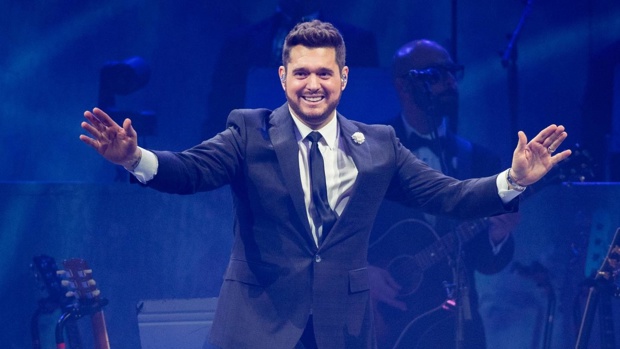 Michael Bublé has shed light on a slightly strange moment with a fan when they showed him their tattoo tribute of the singer in a compromising position.
The Sway singer left The Project Australia panel in stitches when he recounted the time a fan showed him their tattoo which was inspired by a regrettable photo of him eating a cob of corn "the wrong way".
"Apparently most people don't eat it from the top," he said, which prompted the programme to display the image.
"That was the closest thing to a real love note that I've ever had and it was sexy and phallic.
"I feel like people made fun of me, but I think part of it was jealousy because I just think they wish they could take it as deep as I did."
Buble obviously had his mind in the gutter while on the programme, for when he was asked by host Sarah Harris about what he "likes to smell on a lady", he burst into fits of laughter and quipped that there were "so many things" he wanted to say.
Michael has released six perfumes over the last few years. Revealing his motivation for starting the fragrance line, he said: "The truth is, I wanted money, so I did and the first one was like, 'Okay, this is fine'," he said.
"But now it's actually kind of been fun and one of the things that I love is that like if I go and look at the celebrity world of celebrity fragrances, I sit in a group that I always felt destined to be in.
"Like me and Dolly Parton and Ariana Grande and Rihanna, I feel like I'm in an echelon I finally deserve to be in."
The programme took an even spicier turn when comedian Sam Taunton revealed a cardboard cutout of Michael which he borrowed from a chicken shop.
"I found this cut out and I saw a lady hugging it actually as well," he said.

"Do you mind if we do some stuff to this?"
Michael was fine with the notion, saying they could "absolutely" do what they wanted.
Bublé will be coming to Aotearoa for one show in Auckland this June, 25th.

Take your Radio, Podcasts and Music with you