Miley Cyrus wishes Dolly Parton Happy Birthday with uncanny lookalike pic!
Publish Date

Wednesday, 22 January 2020, 5:34PM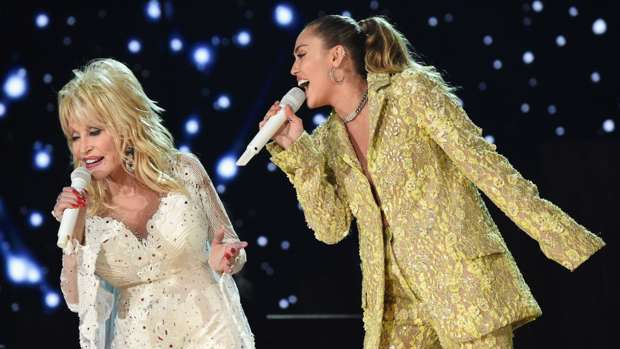 Dolly Parton had her 74th birthday earlier this week, and god-daughter Miley Cyrus shared an uncanny impersonation photograph to wish her!
The picture (and video) were from Miley's 2017 appearance on The Tonight Show with Jimmy Fallon, during which she reenacted Parton's famous 1983 Grammy performance of 'Islands in the Stream', with Jimmy Fallon playing the part of country legend Kenny Rogers. 
Miley's look included Dolly's iconic curly blond wig, a black corset dress, and a little 'extra' padding in her bra.
Like all good god-parents, Dolly has also given some great advice to Miley (who it can be said is no stranger to the tabloids).
In an interview with People Magazine late last year, Dolly was asked about her relationship with Miley and said:
"I've told her some things that I think are valuable and that she uses, but I'd rather live an example," Parton said. "[I'd rather] be an example rather than just try to tell somebody to do this, do that because I don't think that's right. Everybody's different."
She continued: "You've got your own journey. And some people are going to help you along the way and they can kick a few rocks out of the road for you, but you got to walk it."