Taupō 90-year-old celebrates birthday with skydive
Publish Date

Friday, 5 May 2023, 2:46PM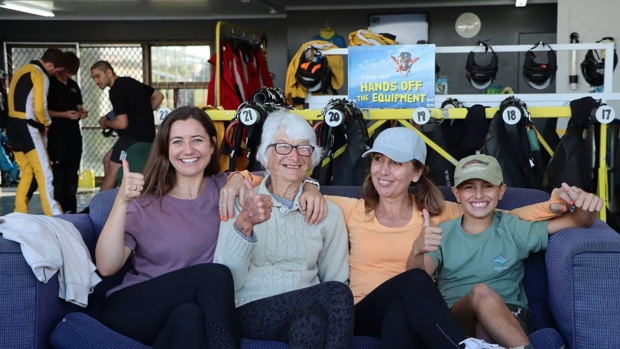 Most people would use turning 90 as a well-earned excuse to lean into an easier lifestyle.
Hazel Georgantis, however, leaned out of a plane that was thousands of feet in the air.
It was her first time skydiving, and it came about after her friend Didi Chapman made good on an earlier promise.
After Georgantis turned 85, Chapman suggested the pair tried out the extreme sport for her next landmark birthday.
"I promised her, when you are 90, we will go skydiving."
So when Chapman handed her an envelope at her birthday party, Georgantis said she knew what was inside.
"She presented me with a ticket, so I couldn't say no."
So, on a calm April day, the two suited up, along with Georgantis' grown-up granddaughter Alice Renouf and Chapman's son Nico, who was also celebrating a birthday, as he was turning 12.

This meant that there were four generations jumping from one plane - something that Chapman said she found very inspiring.
"You are never too young, or too old, to do something special. Age is just a number."
Amazingly, Georgantis took the new experience in her stride, said Chapman.
"She wasn't nervous at all.
"We had a great time, and her family were very proud of her."
When asked about the experience, Georgantis was typically understated.
"It was interesting. The first [part of the] fall, there was a massive lot of wind, so you got a huge lot of it in your face.
"Once the parachute opened, it was lovely."
Chapman said one of the things she admired about Georgantis was her spirit and love of living her life to the full.
"When we finished, she said to me 'Okay Didi, what are we gonna do when I'm 100?'."
Although skydiving was a new experience, Georgantis has long understood the importance of keeping busy in other ways.
Having moved to Taupō on retirement 30 years ago, she received a Queen's Service Medal in the 2021 New Year's Honours list for her lifetime of community and volunteer work.
She has also long been a familiar face in the local pottery scene, which is where she met Chapman. The two became friends and collaborators, with Georgantis still selling her work in Chapman's newly-formed Quirky Gallery.
Chapman said Georgantis is a role model, both for her son Nico and herself, in showing what's possible in older age.
"What's inspiring for me is knowing that I can do the pottery forever when I see her. There is no age limit."
This article was first published in the NZ Herald; Rotorua Daily Post and is republished here with permission.

Take your Radio, Podcasts and Music with you