The Chase's Paul Sinha hits out at his co-stars and calls bosses "racist" in brutal stand-up act
Publish Date

Tuesday, 15 October 2019, 12:55PM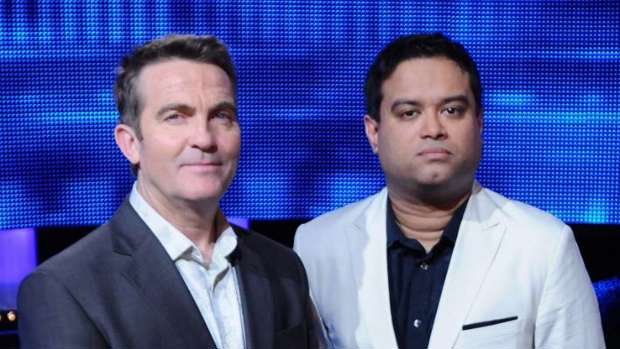 Paul "The Sinnerman" Sinha is a fan favourite on The Chase, he's known for his great quips and quick wit, but the much-loved Chaser may have some explaining to do after he took aim at his co-stars and branded his ITV bosses racist during a recent comedy gig.
The quizmaster was performing a stand-up routine in Lewisham when he turned the tables on his on-screen co-stars.
Paul said: "In 2011, I landed myself the dream job on the enduringly popular ITV quiz show The Chase.
"I am the t*** in the white suit. I have two nicknames, they are the Sinnerman and the Smiling Assassin.
"I don't mind as the other Chasers are called the Vixen, the Dark Destroyer, the Governess, the Beast.
He then went on to explain how the other Chasers got given their nicknames.
READ MORE:
• The Chase host Bradley Walsh was left in hysterics again over cheeky question
• The Chase's Jenny 'The Vixen' Ryan impresses Celebrity X Factor judges with Queen cover
"Anne Hegerty is called The Governess because she is bossy and cruel, and Mark Labbett is known as the Beast because he is f****** his cousin. It is a distant cousin," he told the Lewisham audience.
"Spare a thought for Shaun Wallace. He has been a barrister for 30 years and what do they call him? The Dark Destroyer? Because low level racism is still allowed on an ITV game show."
He later added: "People always ask me, 'Where is your white suit?' What am I supposed to say to that? It's on your granddad's bedroom floor where I left it."
Mark raised eyebrows when he married 26-year-old Katie in 2014 and then revealed that they were second cousins.
However, they added that they "weren't aware" of their connection at the time of their marriage.